Chosei Komatsu
conductor
Biography
Reviews
Itinerary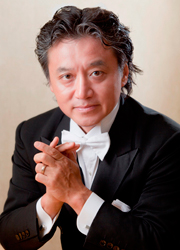 While maintaining an acclaimed career throughout Japan, CHOSEI KOMATSU continues as Conductor Laureate of the Orquesta Sinfónica Nacional de Costa Rica and Japan's Central Aichi Symphony Orchestra.
            Chosei Komatsu previously held the posts of Principal Conductor of the Tokyo Philharmonic Orchestra and Japan Shinsei Symphony Orchestra, Music Director of the Takefu International Music Festival, Music Director of the Kitchener-Waterloo Symphony and Canadian Chamber Ensemble, and Principal Guest Conductor of the Lviv State Opera and Ballet. He also served as Associate Conductor of the Baltimore Symphony Orchestra and Exxon/Arts Endowment Conductor of the Buffalo Philharmonic Orchestra.
            Chosei Komatsu has conducted some of the world's finest orchestras, including L'Orchestre Symphonique de Montréal, Germany's Kölner Rundfunk-Sinfonie-Orchester, Norddeutsche Philharmonie Rostock, and Brandenburgisches Staatsorchester Frankfurt, Moscow Radio Symphony Orchestra, Bolshoi Opera Theater Orchestra, St. Petersburg Symphony Orchestra, Prague Radio Symphony Orchestra, Kiev National Philharmonic Orchestra, Kiev National Opera, Hong Kong Philharmonic Orchestra, Seoul Philharmonic Orchestra, Japan Philharmonic Orchestra, Nagoya Philharmonic Orchestra, New Japan Philharmonic, Osaka Philharmonic Orchestra, Compañia Lirica Nacional de Costa Rica, Filarmónica de la Ciudad de México and Orquesta Sinfónica de Venezuela. In the United States, Mr. Komatsu's performances have included those with the New Jersey Symphony Orchestra and San Antonio Symphony.
            Highlights of Chosei Komatsu's recent seasons include a performance of Mahler's Symphony No. 2 with the Osaka Symphony Orchestra, six performances of Beethoven's Symphony No. 9 with five Japanese orchestras, his invitation to conduct music of Takemitsu, Hisaishi and Fujiwara at the Japan-United States Friendship Concert with the National Gallery of Art Orchestra for the Cherry Blossom Centennial 2012 in Washington, DC, and his 2013 debut at the Berliner Philharmonie, celebrating the famed hall's 50th Anniversary Season and leading Beethoven's Symphony No. 9 with the Brandenburgisches Staatsorchester Frankfurt. 2014 included performances of Beethoven's Symphony No. 9  with Nueva Orquesta Geneva and of Verdi's Requiem with the Nordwestdeutsche Philharmonie in Utrecht's Vradenburg Hall and Amsterdam's Concertgebouw.
            In 2005, Chosei Komatsu led Orquesta Sinfónica Nacional de Costa Rica on tour in Japan, in celebration of the 70th Anniversary of diplomatic relations between those two countries. As part of the Japanese government's official cultural outreach program, the Central Aichi Symphony Orchestra was selected to tour China with Mr. Komatsu in July-August, 2007.
            Among the many recordings to Chosei Komatsu's credit are his two most recent CDs with Orchestra Ensemble Kanazawa, released in 2006 on Sony Classical. His 2004 recording of Akira Senju's Piano Concerto Shukumei, with the Japan Philharmonic Orchestra and Kentaro Haneda, remains the best-selling classical CD in the history of Japan. His gala concert with the Tokyo Philharmonic Orchestra, baritone Renato Bruson and soprano Stefania Bonfadelli was released on DVD and CD in 2003. Mr. Komatsu has also recorded for the Columbia, BMG-Victor, EMI and CBC labels, with the Moscow Radio Symphony Orchestra, Canadian Chamber Ensemble and Kitchener-Waterloo Symphony. YouTube viewing is accessible by selecting "Chosei Komatsu, Tokyo Philharmonic Orchestra."
            A native of Japan, Chosei Komatsu earned a Bachelor of Literature degree in aesthetics from Tokyo University and a doctorate in orchestral conducting from the Eastman School of Music. He was awarded the Leonard Bernstein Conducting Fellowship from Germany's Schleswig-Holstein Festival and the Aspen Festival Conducting Fellowship in the United States. Mr. Komatsu's primary conducting teachers have been David Zinman, David Effron, Donald Neuen and Eiicho Ito; further studies were undertaken with Kurt Masur, Max Rudolf and Leonard Bernstein.
            Chosei Komatsu's first book, Leadership, Beethoven's Ninth Symphony, was issued in September 2011 by Nikkei Publishing Company.
Komatsu conducts with a good deal of discipline and control, but he knew how to surrender to the flow of the music. His music-making was broad, long-breathed and exciting. There was both freedom and a sense of steady, purposeful impetus.
THE BALTIMORE SUN
Performances directed by Komatsu have been consistently interesting and have revealed sensitive individual insights into the composers' musical messages. Komatsu seems truly called to the conducting profession.
THE BUFFALO NEWS
Chosei Komatsu's musicality is like a young sapling growing straight. It is simple, very clear, and free from pretentiousness and hesitation. There is a supreme honesty, which is his unique gift.
MAINICHI NEWSPAPER (Tokyo)
If the overall level of playing exhibited during the concert represents the Kitchener-Waterloo Symphony Orchestra's current standard, Chosei Komatsu has earned a deep Japanese bow of respect.
THE TORONTO STAR
From the initial grave statements of Rachmaninoff's Piano Concerto #2 to the victorious conclusion of Rachmaninoff's Symphony #2, Komatsu, Biegel and the KWS wrung every last ounce of volume and raw passion from these turbulent scores. Prolonged applause, ovations and hurrahs roared through the hall following both performances. Conducting with grand gestures, Komatsu resembled a figure at the prow of a galleon at full sail, navigating the scores with a sharp eye to the elements and a keen grasp of the potential dangers to come. Tempos were skillfully chosen and executed; sonorities throbbed; phrases swelled and fell with natural gracefulness. Juxtapositions of timbre and rhythm and metre and the sheer force of the volume made these Rachmaninoff works come to life.
THE RECORD (Kitchener, ON)
Komatsu sees himself as trying to champion the cause of Mendelssohn's Reformation Symphony, and if Friday night's performance is any indication, he certainly speaks brilliantly for it. Conducting without a score, Komatsu's reading, and the performance he got from the orchestra, was nothing short of impressive.
THE EDMONTON JOURNAL
Two curtain calls later, the fans were still going wild. Komatsu earned another ovation for himself and the [San Antonio] symphony artists after the evening's closer, Dvorak's Symphony No. 6, which was nimbly articulated and, particularly in the finale, alive with joy.
SAN ANTONIO EXPRESS-NEWS
7/8/2018 (3pm)


CENTRAL AICHI SYMPHONY ORCHESTRA

Handa Fukushi Bunka Hall (Aichi, Japan)

Beethoven: Egmont Overture
Beethoven: Symphony #9
soloists:

9/29/2018 (2pm)


FUKUI FESTIVAL CHORUS & BAND

Fukui Undo Park (Japan)

Komatsu: New Song of Fukui Prefecture

11/4/2018 (3pm)


CENTRAL AICHI SYMPHONY ORCHESTRA

Tokai City Bunka Kaikan (Aichi, Japan)

"Gala Concert 2018"
soloists: from Kinjo Gakuin University

12/2/2018 (3pm)


JAPAN PHILHARMONIC SYMPHONY ORCHESTRA

Tokyo Arts Theater

Rossini: William Tell (overture)
Beethoven: Symphony #9
soloists: Sara Kobayashi, soprano
Michiko Hayashi, alto
Kei Fukui, tenor
Masumitsu Miyamoto, baritone
with Tokyo Freude Chorus

12/5/2018 (6:30pm)


CENTRAL AICHI SYMPHONY ORCHESTRA

Nagoya Arts Theater (Japan)

Beethoven: Symphony #9
soloists:
with Yukyu Daik\u Chorus

1/20/2019 (3pm)


CENTRAL AICHI SYMPHONY ORCHESTRA

Handa Fukushi Bunka Hall (Aichi, Japan)

Gershwin: Rhapsody in Blue
soloist: Yosuke Yamashita, pianist
Dvorák: Symphony #8

4/8/2019 (3pm)


CENTRAL AICHI SYMPHONY ORCHESTRA

(Fukui, Japan)

Schumann: Cello Concerto
soloist: Yuiko Arai
Beethoven: Symphony #3

6/9/2019 (3pm)


CENTRAL AICHI SYMPHONY ORCHESTRA &
KINJO GAKUIN UNIVERSITY WIND ENSEMBLE

Handa Fukushi Bunka Hall (Aichi, Japan)