Molly Morkoski
Biography
Repertoire
Discography
Reviews
Itinerary
Media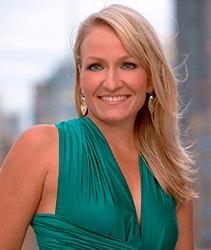 The dazzling American pianist MOLLY MORKOSKI performs as both soloist and collaborative artist throughout the United States, the Caribbean, Europe and Japan.
Molly Morkoski made her Carnegie Hall solo debut in 2007, and has been presented in New York City's Alice Tully Hall, Merkin Concert Hall, Miller Theatre, (le) poisson rouge, Weill Recital Hall and Zankel Hall, Boston's Gardner Museum and Jordan Hall, Philadelphia's Kimmel Center for the Performing Arts, St. Louis' Powell Symphony Hall and Washington, DC's Smithsonian Institution and Los Angeles' Herbert Zipper Concert Hall, while internationally she has been heard in the Ny Carlsberg Glyptoteket (Denmark), Conservatoire de Strasbourg (France), Suntory Hall (Japan), Teatro Nacional (Santo Domingo) and the United States Embassies in Nice and Paris. Ms. Morkoski has also appeared at the Aspen, Bang on a Can, Big Sky, Mendocino, Norfolk Chamber Music, Pacific Rim and Tanglewood festivals.
Highlights of Molly Morkoski's recent schedule include an invitation by John Adams and The San Francisco Symphony to participate in his 70th Birthday celebration, the world premiere of John Harbison's Bag of Tails at New York City's National Sawdust and a performance of Strauss' Burleske with the Mendocino Festival Orchestra. During the 2017-18 season, she returns to National Sawdust as a featured artist in the 80th Birthday concert for composer John Corigliano.
An avid chamber musician, Molly Morkoski collaborates with today's leading musicians, among them John Adams, John Corigliano, Jessica Rivera, David Roberston, Orli Shaham and Dawn Upshaw. She has also performed with the Chiara, Lark and Momenta string quartets and ensembles drawn from the New York Philharmonic, Orpheus Chamber Orchestra and Saint Louis Symphony Orchestra, and is a returning guest artist with Camerata Pacifica, Brooklyn Chamber Music Society and the Metropolitan Opera Orchestra. Ms. Morkoski is a dedicated and enthusiastic proponent of the music of our own time, and has worked closely with many of today's most distinguished composers, including: John Adams, Louis Andriessen, John Corigliano, David Del Tredici, Mark Grey, John Harbison, Martin Kennedy, Aaron Jay Kernis, David Lang, Magnus Lindberg, Oliver Knussen, Steve Reich, Joan Tower, Andrew Waggoner and Charles Wuorinen.
Molly Morkoski's critically acclaimed 2012 debut solo CD, "Threads," followed by "Compadrazgo," a 2013 album of solo and chamber music compositions by the Grammy Award-winning composer Gabriela Lena Frank, are both released on Albany Records. Her recording of Martin Kennedy's Piano Concerto (written for her) is available on a 2013 release on Ansardy Records with the Moravian Philharmonic Orchestra. Current projects include a multi-media presentation of newly commissioned Nocturnes for live piano and film, as well as an abstract animation film to be paired with live performances of Bach's Goldberg Variations.
The recipient of many awards, Molly Morkoski holds degrees from the University of North Carolina at Chapel Hill, Indiana University Bloomington the State University of New York at Stony Brook. She was a Fulbright Scholar to Paris, where she was an apprentice with the famed Ensemble Intercontemporain.
Molly Morkoski has conducted masterclasses at universities throughout the United States and abroad, and has served as a chamber music coach for, among others, programs of the Juilliard School Pre-College, Columbia University, New York Youth Symphony and SUNY-Stony Brook. She is currently Associate Professor of Piano at CUNY-Lehman College in the Bronx.
Molly Morkoski makes her home in New York City.
[CHAMBER ENSEMBLE REPERTOIRE FOLLOWS CONCERTO LIST]
BARBER
Concerto, Op. 38
BRAHMS
Concerto #2 in B-flat, Op. 83
CORIGLIANO, John
Concerto (1968)
GERSHWIN
Rhapsody in Blue
GRIEG
Concerto in a, Op. 16
KENNEDY, Martin
Concerto (2008)
LEVINSON, Gerald 
Time and the Bell for Piano & Chamber Ensemble
LISZT
Concerto #1 in E-flat
MOORE, Anthony
Concerto for Piano & Chamber Orchestra
MOZART
Concerto #20 in d, K. 466
Concerto #23 in A, K. 488
Concerto #26 in D, K. 537 ("Coronation")
RACHMANINOFF
Concerto #2 in c, Op. 18
RAVEL
Concerto in G
SAINT-SAËNS
Carnival of the Animals
Concerto #2 in g, Op. 22
STRAUSS, Richard
Burleske in d
ARENSKY
Piano Trio #1 in d, Op. 32
BARRY, Gerald
Piano Quartet #1
Piano Quartet #2
Octet
BARTÓK
Contrasts (clarinet, violin, piano)

BEACH

 
Piano Trio in a, Op. 150

BEETHOVEN

 
Piano Trio #6 in B-flat, Op. 97 ("Archduke")
Piano Trio #7 in B-flat, Op. 11
Trio in E-flat, Op. 38 (piano, clarinet, cello)
Trio in G, WoO 37 (flute, bassoon, piano)
Quintet in E-flat for Piano & Winds, Op. 16
BOLLING
Picnic Suite for Flute, Guitar, Bass & Piano

BOULANGER, Lily

 
Deux pieces en piano trio

BRAHMS

 
Clarinet Trio in a, Op. 114
Horn Trio in E-flat, Op. 40
Piano Trio #1 in B, Op. 8

BRIDGE

 
Phantasie Trio in c (piano, violin, cello)
3 Songs for Voice, Viola & Piano

BRUCH

  
8 Pieces for Clarinet, Viola & Piano, Op. 83
CAPLET
Quintet for Piano & Winds, Op. 8
CHABRIER
L'invitation au voyage (soprano, bassoon, piano)
CRUMB
Makrokosmos
Vox balaenae (electric flute, electric cello, electric piano)
CUI
Trio, Op. 56 (violin, flute, piano)
DEBUSSY
Piano Trio in G

DOHNÁNYI

 
Piano Quintet #1 in c, Op. 1


DORMAN

  
Piano Trio
DURUFLÉ 
Prélude, récitatif et variations for Flute, Viola & Piano, Op. 3
DVORÁK  
Piano Trio #3 in f, Op. 65
Piano Quintet in A, Op. 81
EWAZEN, Eric
Trio for Violin, Trumpet & Piano
FAURÉ
La bonne chanson, Op. 61 (voice, string quartet, piano)
Piano Trio in d, Op. 120
Piano Quartet #1 in c, Op. 15

FRANÇAIX

  
L'Heure du Berger (piano, wind quintet)
Trio (clarinet, viola, piano)

FRANK, G.L.

  
Piano Quintet
GALLO, Domenico
Trio Sonata in E
Trio Sonata in G

GAUBERT

  
Trois Aquarelles (flute, cello, piano)

GLINKA

  
Trio pathétique in d (clarinet, bassoon, piano)
HAHN  
Romanesque for Flute, Viola & Piano

HARBISON

  
November 19, 1828 (piano quartet)

HAYDN

Piano Trio #32 in A, Hob. XV:18
Piano Trio #39 in G, Hob. XV:25 ("Gypsy")
Piano Trio #40 in f-sharp, Hob. XV:26

HIGDON

  
Lullaby (flute, cello, piano)

IVES

  
Largofor Violin, Clarinet & Piano

KHACHATURIAN

  
Trio for Clarinet, Violin & Piano

KORNGOLD

Suite for Piano Left-Hand & Strings, Op. 23

LIGETI

  
Horn Trio

LOEFFLER

  
Two Rhapsodies for Oboe, Viola & Piano

MACKEY, John

  
Breakdown Tango (clarinet, violin, cello, piano)

MARTINU

  
La Revue de Cuisine (clarinet, bassoon, trumpet, violin, cello, piano)
Trio for Flute, Cello & Piano
Piano Quintet #2

MELLITS, Mark

  
Tight Sweater (cello, marimba, piano)

MENDELSSOHN

  
Piano Trio #1 in d, Op. 49

MESSIAEN

  
Quartet for the End of Time

MILHAUD

  
La création du monde (for piano quintet, Op. 81b)

MOZART

  
Clarinet Trio in E-flat, K. 498 ("Kegelstatt")
Piano Trio in G, K. 496
Piano Quartet #2 in E-flat, K. 493

MUCZYNSKI

  
Fantasy Trio, Op. 26 (clarinet, cello, piano)
PENDERECKI  
Sextet for Clarinet, Horn, String Trio & Piano

PIAZZOLLA

  
Grand Tango (piano trio)
Invierno Porteño (piano trio)

POULENC

  
Trio for Oboe, Bassoon & Piano
Sextet for Piano & Woodwind Quintet

PROKOFIEV

  
Overture on Hebrew Themes, Op. 34 (clarinet, piano, string quartet)

RACHMANINOFF

  
Trio élégiaque #1

RAVEL

  
Chansons madécasses (soprano, flute, cello, piano)
Piano Trio in a

REINECKE

  
Trio in A, Op. 264 (clarinet, viola, piano)

D'RIVERA

  
Prelude and Merenque (clarinet, cello, piano)

ROREM

  
Trio for Flute, Cello & Piano

ROUSSEL

  
Divertissement for Wind Quintet & Piano, Op. 6

SAINT-SAËNS

  
L'assissinat du Duc de Guise (clarinet, cello, piano)
Carnival of the Animals

SCHOENBERG/STEUERMANN

 
Verklärte Nacht (piano trio)

SCHUBERT

  
Piano Trio #1 in B-flat, D. 898
Quintet in A for Piano & Strings, D. 667 ("Trout")

SCHUMANN

  
Märchenerzählungen, Op. 132 (clarinet, viola, piano)
Piano Trio #1 in d, Op. 63
Piano Trio #2 in F, Op. 80
Piano Quartet in E-flat, Op. 47
Piano Quintet in E-flat, Op. 44

SHOSTAKOVICH

  
Piano Trio #1 in c, Op. 8
Piano Trio #2 in e, Op. 67
Piano Quintet in g, Op. 57

STRAVINSKY

  
L'Histoire du soldat

TELEMANN

  
Sonata in c (flute, oboe, bassoon, continuo)

TOWER

For Daniel, for Piano Trio

VAUGHAN WILLIAMS

  
On Wenlock Edge (tenor, piano, string quartet)

WEBER

Trio in g for Flute, Cello & Piano, Op. 63
WEINBERG
Trio for Flute, Viola & Piano, Op. 127

ZEMLINSKY

Clarinet Trio in d, Op. 3
"THREADS"

BEETHOVEN: Six Bagatelles, Op. 126
WUORINEN: Blue Bamboula
CHOPIN: Ballade in f, Op. 52
ANDRIESSEN: Toccata: Image de Moreau
ADAMS: China Gates
PROKOFIEV: Sonata #3 in a, Op. 28

ALBANY RECORDS: TROY 1342

"GABRIELA LENA FRANK: COMPADRAZGO"

Sonata Andina for solo piano (2000)
Sueños de Chambi: Snapshots for an Andean Album for flute & piano (2002)
Canto de Harawi: "Amadeoso" for flute, clarinet and piano (2005)
Tres Homenajes: Compadrazgo for piano quintet (2007)
with Ensemble Meme

ALBANY RECORDS: TROY 1449

MARTIN KENNEDY

Piano Concerto (2008)
Moravian Philharmonic Orchestra
Joel Eric Suben, conductor

ANSARDY RECORDS
Molly Morkoski devoted her set to three etudes by György Ligeti. These works proved so varied and substantial that you wished she were offering them all. Ms. Morkoski, an energetic, focused player, captured the nuances of the rhythmically vital Fem and the subtly shifting hues of the gentler Arc-en-ciel. But she was at her best in the closing piece – Desordre, a brisk amalgam of Ligeti's tart harmonic style and jazz, with Dave Brubeck and ragtime among the evident influences.
THE NEW YORK TIMES
Morkoski's warmth and grace increased to a fever pitch as she played keys at the ends of the piano, culminating in a subtle, breathtaking finale.
TIME OUT NEW YORK
There was a lot of interesting piano music [at the Tanglewood festival of contemporary music]. The now classics etudes by Perle extend the genre and our knowledge of the instrument, particularly the possibilities of the pedal. They are so difficult that when the first set was premiered in Jordan Hall 30 years ago, there was blood on the keyboard; today's young virtuosos take them in stride. Ramon Zupko's Somewhere Gladly Beyond is ecstatically affectionate.
THE BOSTON GLOBE
An added bonus on the program, due to the singer's [Dawn Upshaw] ailment, was an instrumental taste of her fine pianist, Molly Morkoski, and the work of another archetypically American composer, Charles Ives. A strong and sensitive pianist, Morkoski showed considerable insight into the complex sound of Ives' music, as this movement's lyrical themes were subjected to sly Ives-ian deconstruction.
SANTA BARBARA NEWS-PRESS
In the Piano Trio No. 3 in F minor Dvorák bares his emotional soul following the death of his mother. This dramatic anxiety was well realized by the players, with pianist Molly Morkoski unstinting in the power and force needed for this music.
SUN-SENTINEL (Fort Lauderdale)
The earliest work on the program, the avant-garde classic Vox Balaenae (1971), is driven by bending, microtonal flute and cello pitches and percussive inside-the-piano writing. Tara Helen O'Connor, the flutist; Priscilla Less, the cellist; and Molly Morkoski, the pianist, played the work with an intensity that was actually a refined kind of virtuosity.
THE NEW YORK TIMES
There is no unanimous opinion on how accessible George Perle's work is, but to the extent that it has to be come to, this ear has come to it – particularly to his piano music. Six New Etudes, from 1985, are fast, pushy, persuasive, and notey, in the meaty exercise fach. Molly Morkoski, the New Fromm Pianist, was exhilarating as she tore through these and anything else she sat down to play.
AMERICAN RECORD GUIDE
The newbie here, and remember this name, was pianist Molly Morkoski, making her Camerata Pacifica debut with the bold confidence and interactive grace one wants in a devoted chamber music maker. Ms. Morkoski has played in Santa Barbara before, and memorably, when she played from Charles Ives' Concord Sonata, performing with soprano Dawn Upshaw back in 2007. It was one of those 'wow' moments in that concert year, still lingering in the memory. Here she demonstrated her more-than-worthy powers as a robust addition to the Camerata roster.
SANTA BARBARA NEWS-PRESS
9/9/2017 (8pm)

OLD WESTBURY GARDENS (NY)

Beethoven: Piano Sonata #14
GChopin: Ballade #4

9/16/2017 (6pm)

THE JUILLIARD SCHOOL (NYC)

Paul Hall

Duo Recital with Caroline Stinson, cellist     
Poulenc: Cello Sonata
Stravinsky: Suite Italienne

9/20-23/201

YELLOW BARN MUSIC SCHOOL & FESTIVAL (Putney, VT)

10/7/2017 (7:30pm)

BOZEMAN SYMPHONY ORCHESTRA

Reynolds Recital Hall, Howard Hall, Montana State University

Beethoven: Piano Sonata #14
Bruce: Undula
Chopin: Ballade #4
Scriabin: Poème-nocturne
Bernstein: Piano Sonata
Harbison: Bag of Tails (codas for solo piano)

2/11/2018 (3pm)

PACIFIC SYMPHONY

Samueli Theater, Segerstrom Center for the Arts (Costa Mesa, CA)

Reich: Quartet
with Orli Shaham, pianist
, vibraphonist
, vibraphonist

2/16/2018 (7pm)

NATIONAL SAWDUST (Brooklyn, NY)

"John Corigliano @ 80, Part I"
3 cabaret songs
with Lindsay Kesselman, soprano
Winging It
Etude Fantasy

3/6/2018 (7:30pm)

CAMERATA PACIFICA

The Huntington Library (San Marino, CA)

Penderecki: Sextet for Clarinet, Horn, String Trio & Piano
Saariaho: Petals
Satoh: Birds in Warped Time II
Bruce: Gumboots

3/8/2018 (8pm)

CAMERATA PACIFICA

Herbert Zipper Concert Hall, The Colburn School (Los Angeles)

Penderecki: Sextet for Clarinet, Horn, String Trio & Piano
Saariaho: Petals
Satoh: Birds in Warped Time II
Bruce: Gumboots

3/9/2018 (7:30pm)

CAMERATA PACIFICA

Hahn Hall, University of California Santa Barbara

Penderecki: Sextet for Clarinet, Horn, String Trio & Piano
Saariaho: Petals
Satoh: Birds in Warped Time II
Bruce: Gumboots

3/11/2018 (3pm)

CAMERATA PACIFICA

Temple Beth Torah (Ventura, CA)

Penderecki: Sextet for Clarinet, Horn, String Trio & Piano
Saariaho: Petals
Satoh: Birds in Warped Time II
Bruce: Gumboots

3/25/2018 (pm)

DUKE PERFORMANCES (Durham, NC)

5/10/2018 (8pm)

CAMERATA PACIFICA

Herbert Zipper Concert Hall, The Colburn School (Los Angeles)

Debussy: Prélude à l'après-midi d'un faune
Satie: Gnossiennes #1-3
Richards: Hora de la Circ
Ravel: Don Quichotte à Dulcinée
Ravel: Introduction & Allegro
Mahler: Lieder eines fahrenden Gesellen

5/11/2018 (7:30pm)

CAMERATA PACIFICA

Hahn Hall, University of California Santa Barbara

Debussy: Prélude à l'après-midi d'un faune
Satie: Gnossiennes #1-3
Richards: Hora de la Circ
Ravel: Don Quichotte à Dulcinée
Ravel: Introduction & Allegro
Mahler: Lieder eines fahrenden Gesellen

5/13/2018 (3pm)

CAMERATA PACIFICA

Temple Beth Torah (Ventura, CA)

Debussy: Prélude à l'après-midi d'un faune
Satie: Gnossiennes #1-3
Richards: Hora de la Circ
Ravel: Don Quichotte à Dulcinée
Ravel: Introduction & Allegro
Mahler: Lieder eines fahrenden Gesellen

5/15/2018 (7:30pm)

CAMERATA PACIFICA

The Huntington Library (San Marino, CA)

Debussy: Prélude à l'après-midi d'un faune
Satie: Gnossiennes #1-3
Richards: Hora de la Circ
Ravel: Don Quichotte à Dulcinée
Ravel: Introduction & Allegro
Mahler: Lieder eines fahrenden Gesellen
Debussy: Sonata for Cello & Piano

(le) poisson rouge (NYC)
July, 2013

Messiaen: Prelude No. 8

(le) poisson rouge (NYC)
July, 2013

Ravel: Sonate posthume for Violin & Piano

(le) poisson rouge (NYC)
July, 2013

Barber: Concerto for Piano & Orchestra, Op. 38 (mvt. l: Allegro appassionato)

UNC Chapel Hill Symphony Orchestra
Tonu Kalam, conductor
December, 2010

Barber: Concerto for Piano & Orchestra, Op. 38 (mvt. IIl: Allegro molto)

UNC Chapel Hill Symphony Orchestra
Tonu Kalam, conductor
December, 2010