Sooyun Kim
flutist
Biography
Repertoire
Discography
Reviews
Itinerary
Media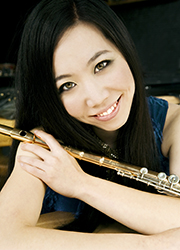 Having attracted international attention as one of the rare master flute soloists on the classical music scene, SOOYUN KIM is a native of Seoul, who grew up in the United States.  Currently, she is an Artist member of The Chamber Music Society of Lincoln Center, performing regularly in concerts in New York City and on tour.
Subsequent to making her debut with the Seoul Philharmonic Orchestra at the age of ten, Sooyun Kim has been the guest soloist with leading orchestras in the United States and Europe, among them, The Boston Pops, New Jersey Symphony Orchestra, Münchner Rundfunkorchester and Münchener Kammerorchester. In the United States, she has performed in New York City's Carnegie Hall, Alice Tully Hall at Lincoln Center for the Performing Arts and The DiMenna Center for Classical Music, Boston's Jordan Hall and Washington, DC's John F. Kennedy Center for the Performing Arts, while abroad, Ms. Kim has been featured in Budapest's Franz Liszt Hall, Munich's Herkulesaal and Prinzregententheater, Paris' Auditorium du Louvre and Salle Gaveau, Helsinki's Sibelius Academy, Odense's Carl Nielsen Hall, Kobe's Bunka Hall and Seoul's Sejong Arts Hall. Her summer appearances include Chamber Music Northwest, Music@Menlo, Newport Music Festival, Spoleto USA Festival and Yellow Barn Festivals.
A winner of the Georg Solti Foundation career Grant, Sooyun Kim became the first American since 1964 to win a top prize at Munich's 2010 ARD International Flute Competition in Munich, at which she was also awarded a Special Prize for the best interpretation of a commissioned work by Bruno Mantovani.
Sooyun Kim is also an avid chamber musician and, in 2009, became one of the handful of musicians to be invited to join The Chamber Music Society of Lincoln Center's prestigious CMS TWO program for rising young artists. Subsequently, she has collaborated with dozens of distinguished artists, including Kenneth Cooper, David Finckel, Leila Josefowicz, Ani and Ida Kavafian, Paula Robison, Russell Sherman, Fred Sherry, David Shifrin and Richard Stoltzman, as well as the Borromeo, Jupiter, Orion and Parker string quartets. During the summer of 2012, Ms. Kim served as an Artist in Resident with the Danish Chamber Players, for whom she curated and collaborated with the ensemble in its annual festival "Sumermusic in Fuglsang."
Sooyun Kim earned all of her degrees - Bachelor of Music, Master of Music, Graduate Diploma - at the New England Conservatory, where she worked with Paula Robison. In addition to her musical training, she studied baroque dance with Melinda Sullivan. Her performance of Debussy's Syrinx has been heard nationally on Performance Today, and her recordings are available on the ArtistLed label. Ms. Kim is an official artist of Powell Flutes, the distinguished American maker of flutes and piccolos.
BACH, C.P.E.          
Concerto in B-flat, Wq. 167, H. 435
Concerto in A, Wq. 168, H. 438
Concerto in G, Wq. 169, H. 445
Concerto in d, Wq. 22, H. 484/1
BACH, J.S.
Brandenburg Concerto #2 in F, BWV 1047
Brandenburg Concerto #4 in G, BWV 1049
Brandenburg Concerto #5 in D, BWV 1050
Concerto in a for Flute, Violin & Harpsichord, BWV 1044
Suite #2 in b, BWV 1067
BENDA
Concerto in e
BORNE
Fantasie Brillante on Themes from Bizet's Carmen
CHAMINADE
Concertino, Op. 107
DEVIENNE
Concerto #2 in D
Concerto #3 in G
Concerto #7 in e
FELD
Concerto
GRIFFES
Poem (1918)
HAYDN
Concerto in D
IBERT
Concerto (1934)
JOLIVET
Concerto for Flute & String Orchestra (1949)
KHACHATURIAN
Concerto
LIEBERMANN
Concerto, Op. 39
MARTIN
Ballade
MERCADANTE
Concerto #2 in e for Flute & String Orchestra, Op. 57
MOZART
Andante in C, K. 315
Concerto #1 in G, K. 313
Concerto #2 in D, K. 314
Concerto in C for Flute & Harp, K. 29
Rondo in D, K. 373
NIELSEN
Concerto, Op. 119 (1926)
PENDERECKI
Concerto for Flute & Chamber Orchestra (1992)
QUANTZ
Concerto in C
Concerto in G
REINECKE
Concerto in D, Op. 283
RODRIGO
Concierto pastorale (1978)
ROUSE
Concerto (1993)
STAMITZ
Concerto in G, Op. 29
VIVALDI
Concerto in D, Op. 10, #3; RV 428 ("Il gardellino")
Concerto in G, Op. 10, #11; RV 439 ("La notte")
Concerto in E, Op. 8, #1 ("La primavera" from The Four Seasons)
Concerto in C for Piccolo, RV 443
YUN, Isang
Concerto
VIVALDI: Trio Sonata #12 in d, Op. 1, RV 63 (La Folia)

Sooyun Kim, piccoloist
Yehonatan Berick, violinist
Eric Kim, cellist
Alessio Bax, harpsichordist

Music@Menlo Live 2011, Vol. 1

J.S. BACH: Trio Sonata from A Musical Offering, BWV 1079

Sooyun Kim, flutist
Arnaurd Sussmann, violinist
Laurence Lesser, cellist
Alessio Bax, harpsichordist


Music@Menlo Live 2011, Vol. 3

J.S. BACH: Brandenburg Concerto #4 in G, BWV 1049

Music@Menlo Live 2008, Vol. 1

MOZART: Flute Concerto #2 in D, K. 314

with Munich Chamber Orchestra

59. Musikwettbewerb der ARD Preisträger des Jahres 2010
Music by Bach, Clara Schumann, Vivaldi and Brahms provided a heady mix of ensemble in which most of us gratefully acknowledged the striking Sooyun Kim as a new 'Paganini of the flute.' Seamless flute work from Kim only half indicated the kind of florid prowess she would reveal in the Vivaldi Trio Sonata in D Minor, Op. 1, No. 12, with its whirlwind variants on La Folia.
 THE CLASSICAL MUSIC GUIDE
 The image of Kim playing to a haunted Pierrot during Der kranke Mond was indelible.
 THE BOSTON GLOBE
Competitions are a bit like school: at every step the jury test has to be passed, an obligatory piece has to be delivered. You can hardly expect that the young musicians can perform in a completely liberated way afterwards at the prize-winners' concert. But if you have already participated for a long time in concert life, you are fortunately able to switch to playing like in a 'normal' concert. Already as a ten year old girl, Sooyun Kim played Mozart's Concerto in D in concert. She obviously seems to enjoy that the Münchener Kammerorchester adapts in a wonderfully flexible way to the soloist. The soloist playfully passes suggestions and dynamic variations to the leader and, above all, she lets the slow movement stream from complete tranquillity.
SUEDDEUTSCHE ZEITING
Another Merry Christmas With the Brandenburgs [headline]
The program opened with a straightforward reading of the Concerto No. 1 in F, followed by the Concerto No. 2 in F, enhanced by vivid contributions from the flutist Sooyun Kim.
THE NEW YORK TIMES
Kim was also a beguiling presence, with a way of dancing slightly as she played and a flair for a touch of theater. She offered Debussy's atmospheric Syrinx for solo flute on a darkened stage, explaining that such a presentation suited the piece's origins as incidental music; it also heightened the mystery of the music and brought attention to her vivid tone colors.
THE OREGONIAN
A rare virtuoso of the flute
LIBÉRATION (Paris, France)  
Also appearing was lovely flutist Sooyun Kim, who provided the lyrical solo based on the Das Knaben Wunderhorn song in the Mahler 4th Symphony transcription (a part usually sung by a soprano in the original orchestral version). She was a perfect addition in every respect – from her mint-green gown and golden flute to her lilting, expressive playing. The stomping, whooping audience brought Sherman, Byun and Sooyun Kim back for three curtain calls.
 THE BOSTON MUSICAL INTELLIGENCER
Flautist Sooyun Kim stole the show, infusing Vivaldi and Bach with virtuosic spirit and warm expression. I have never heard piccolo at a chamber music concert and never thought that it could blend so well with strings, especially playing what is usually a violin part of Vivaldi's La Folia. When she set off the torrent of turbo 16th's at the finale, the clearly articulated notes made me wish that we had more chamber music for flute and strings. The only wind player on the program shone like a bright jewel.
EXAMINER.COM
Sooyun Kim lights up the stage on her flute. Ms. Kim, in a red-tiered chiffon, looked like a Christmas ornament and played like an angel.
BERKSHIRE FINE ARTS
Standouts were Anne-Marie McDermott's softly glinting Ravel; Paul Neubauer's viola in Debussy and Roussel; Nicholas Canellakis' poetic cello in the Debussy Sonata; and the beguiling fluidity of Sooyun Kim, flute, and Bridget Kibbey, harp, throughout. Those who stayed away missed a banquet.
CHICAGO TRIBUNE
8/31/2017 (7:30pm)

SEJONG RECITAL HALL (Seoul, Korea)


Ibert: Pièce pour flute seule
Fauré: Fantasie
Reinecke: Flute Sonata
Takemitsu: Voice for solo flute
Martin: Ballade
Doppler: Andante & Rondo for 2 Flutes
Taffanel: Fantaisie on Freischütz
with Jinuk Kim, pianist

9/10/2017

(Gwangju, Korea)


Mercadante: Flute Concerto #2
with Ecole Flute Ensemble

4/4-7/2018

BARD MUSIC WEST

Noe Valley Ministry (San Francisco, CA)

with Third Sound

5/8/2018 (7:30pm)

THE SCHUBERT CLUB

Summit Beer Hall (St. Paul, MN)

with Third Sound

2/20/2018 (7:30pm)

THE CHAMBER MUSIC SOCIETY OF LINCOLN CENTER

Alice Tully Hall, Lincoln Center for the Performing Arts (NYC)

Ravel: Le tombeau de Couperin
Telemann: Fantasy #11 in G

Rose Studio, Lincoln Center for the Performing Arts
March 19, 2012

Schubert: Introduction, Theme & Variations on Trockne Blumen, D. 802

Auditorium du Louvre
February 9, 2012

Dutilleux: Sonatine pour flute et piano

Auditorium du Louvre
February 9, 2012

Sooyun Kim's YouTube channel: