Adrian Daurov
cellist
Biography
Repertoire
Reviews
Itinerary
Media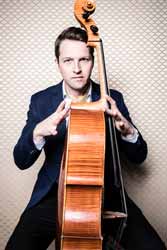 A native of St. Petersburg, Russia and now living in New York City, cellist ADRIAN DAUROV is one of the most dazzling artists of his generation.
Adrian Daurov, at the age of 15, made his debut as soloist with the St. Petersburg State Symphony Orchestra. Subsequently, he earned top honors at three international competitions - Bulgaria's 1st International Music Competition "Coast of Hope" (First Prize, 1996); The Netherlands' Peter De Grote International Music Competition (Grand Prix, 2002); New York City's L.I.S.M.A. International Music Competition (First Prize, 2004). In 2004, he toured  as soloist with the St. Petersburg Chamber Orchestra, performing in St. Petersburg, Moscow, Warsaw and throughout Germany, and was appointed to the dual position of principal cellist and soloist with the Bayreuth Youth Festival Orchestra, under the baton of Peter Gulke. 2008 heard him as a featured participant in a gala Carnegie Hall concert celebrating Russia's Independence Day, a program that included the distinguished Russian singers Yelena Obratztsova and Vladimir Galouzine.
After studying at the St. Petersburg Conservatory, Adrian Daurov was awarded the Jerome L. Greene Scholarship for advanced studies at The Juilliard School with renowned cello pedagogues André Emelianoff and  David Soyer, where he completed his Bachelor's and Master's degrees. While still in school, he was appointed principal cellist of The Chamber Orchestra of New York, a position he still holds. Mr. Daurov has also collaborated in chamber music programs with pianist Alexander Ghindin, violinist Mark Peskanov and flutist Eugenia Zukerman. Recent seasons have included debuts with the Dayton and Massapequa philharmonic orchestras, the symphony orchestras of Altoona, Bozeman, Glacier, Kalamazoo, Longmont, Longwood, Ridgefield, Westerville and Wyoming, and the Chamber Orchestra of New York (at Carnegie Hall). In 2012, he teamed up with the award-winning pianist Spencer Myer to form the Daurov/Myer Duo.
Passionately devoted to the music of our own time, Adrian Daurov has already presented the world premieres of two important works - In 2008, Fountains of Fin for flute, violin and cello by the Persian composer Behzad Ranjbaran and, in 2009, The Epistle - Concerto for Cello & Chamber Choir by the Siberian composer Yuri Yukechev, written for Mr. Daurov and the Russian Chamber Chorus of New York, Nikolai Kachanov, Artistic Director.
Adrian Daurov's artistry has been heard on several radio and television stations, including WNYC, WQXR and NTV-America. He is also featured on a recent album by the young New York City-based jazz star Romain Collin.
Adrian Daurov performs on a magnificent 1989 cello crafted by John Terry in Florence, Italy.
d'ALBERT
Concerto in C, Op. 20
BACH, C.P.E.
Concerto in A, W. 172
BEETHOVEN
Concerto in C, Op. 56 ("Triple")
BERNSTEIN
3 Meditations from Mass
BLOCH
Schelomo (1918)
BOCCHERINI
Concerto in D, G. 479
BOCCHERINI/Gruetzmacher
Concerto in B-flat
BRAHMS
Concerto in a, Op. 102 ("Double")
BRUCH
Kol Nidrei, Op. 47
DVORÁK
Concerto in b, Op. 104
ELGAR
Concerto in e, Op. 85
GLAZUNOV
Concerto ballata, Op. 108
GUNNING, Christopher
Concerto (written for Mr. Daurov)
HAGEN, Daron
Concerto [with full or wind orchestra] (1996)
HAYDN
Concerto #1 in C
Concerto #2 in D
HONEGGER
Concerto in G (1940)
KHOLMINOV, Alexander
Concerto for Cello & Choir
LALO
Concerto in d
MILHAUD
Concerto #1, Op. 136
MORAVEC, Paul
Montserrat: Concerto for Cello & Orchestra (2001)
MYASKOVSKY, Nicolai
Concerto in c, Op. 66 (1944)
PROKOFIEV
Symphony-Concerto, Op. 125
RANJBARAN, Behzad
Concerto (1998)
RESPIGHI
Adagio con variazioni (1920)
ROREM, Ned
Concerto
Concerto for Cello & Piano
SAINT-SAËNS
Allegro appassionato in b, Op. 43
Concerto #1 in a, Op. 33
SCHUMANN
Concerto in a, Op. 129
SHOSTAKOVICH
Concerto #1 in E-flat, Op. 107
STRAUSS
Don Quixote, Op. 35
TAVENER, John
Svyati for Cello & Choir
TCHAIKOVSKY
Variations on a Rococo Theme, Op. 33
TOWER, Joan
Music for Cello & Orchestra
VIVALDI
various concerti
WALTON
Concerto (1956)
WUORINEN
"Five" Concerto for Amplified Cello & Orchestra
YUKECHEV, Yuri
The Epistle - Concerto for Cello & Choir (written for Mr. Daurov)
Cellist Adrian Daurov is a superb artist whose playing is both virtuosic and movingly expressive, reflecting both his assimilation of the emotional center, directions and flow of the music he is playing and his ability to communicate that assimilation to an audience, both aurally and visually. Apart from what may or not may not have inspired Shostakovich's concerto [#1], his score is musically impressive, with an energetic, almost frenetic first movement, a lyrically moving second, a solo cadenza so long that Shostakovich counted it as an additional movement, and a summarizing finale that ends in an impressive virtuosic display. Daurov managed all of it to expressive perfection.
THE RIDGEFIELD PRESS (Connecticut)
First of all, a huge thank YOU for suggesting Adrian Daurov. From the moment we started rehearsing together, I knew I was in the presence of a true master - technically brilliant, musically perfect, intellectually stimulating. But these are only the foundation of his extraordinary ability. When you add to this his deep, generous, and fun-loving personality, he is in the great pantheon of musical giants. Adrian is the real thing!
MICHAEL LANKESTER (guest conductor, Ridgefield Symphony Orchestra)
Adrian brought a thorough and detailed preparation to his reading of the Shostakovich first cello concerto which was truly inspiring. This music obviously resonates with him on many levels, and he has developed a vision that is sound and authentic. He has the technical prowess to execute the difficult passage work, and the musical intuition that portrays the more introspective aspects of the piece in a delicate and sensitive manner. The audience was totally engaged by Adrian, and reacted most enthusiastically to his dynamic performance. Without hesitation, I recommend Adrian Daurov to colleagues seeking an inspired performer and pleasant collaborator for any level of artistic sophistication.
PETER STAFFORD WILSON (Music Director, Westerville Symphony)
Mr. Daurov, a young cellist who looks the part of the Romantic artist, produced a warm sound and phrased naturally.
THE NEW YORK SUN
Cheung offers up titanic works [headline]
The Russian-born Adrian Daurov played the solo in Dvorak's Concerto for Cello and Orchestra. The cello is a bass instrument in the ensemble, yet Dvorak wrote the vast majority of the solo part in a higher range–one with the intensity to sing over the orchestra. Daurov sounded as nimble as a violinist in those sections, and displayed a wide range of expression all over the instrument. I was astonished by his flawless execution of two melodies at once in the slow movement.
THE ALTOONA MIRROR (PA)
Adrian Daurov plays with power, charisma and commitment. With a superb technique and a consummate sense of style, Adrian is a tremendous talent and a truly exciting young artist.
EUGENIA ZUKERMAN (Internationally renowned flutist, TV personality, writer)
Afloat on the High Seas, Persian Fountains and the Blues [headline]
It [Ranjbaran Fountains of Fin] proved a gripping piece, and the ensemble–violinist Mark Peskanov, the flutist Lance Suzuki and the cellist Adrian Daurov–made a powerful case for it.
THE NEW YORK TIMES
His [Schnittke's] grim sonata has become a favorite of cellists, but the dissonances–large sections are increasing minor seconds on cello and piano, making a most uncomfortable tapestry–were built up by Adrian Daurov with the most serious intent. This was the first time I had heard the work live, and it came as a revelation.
CONCERTONET.COM
Adrian Daurov is a dazzling cellist with soul and technique to burn.
DAVID DEL TREDICI (Pulitzer Prize-winning composer)
On the strength of its fine concert at the Phillips Collection, the Voxare [String Quartet] could have a good shot at professional viability. Cellist Adrian Daurov turned in richly expressive solos. The group jumps on its music with all fours and makes the tussle worth hearing.
THE WASHINGTON POST
Solid, thoroughly unified readings of Taneyev and Arensky, sweetly played by Adrian Daurov
THE NEW YORK TIMES
3/20/2022 (2:30pm)

CHAMBER MUSIC SOCIETY OF UTICA (NY)

Museum of Art Auditorium

Schubert: String Quintet
with Euclid Quartet

4/12/2022 (7:30pm)

WILLIAMS COLLEGE (Williamstown, MA)

Chapin Hall, Bernhard Music Center

Schubert: String Quintet
with Euclid Quartet

5/15/2022 (3pm)

FRIENDS OF MUSIC OF STAMFORD, NY

Stamford United Methodist Church

Schubert: String Quintet
with Euclid Quartet

7/23/2022 (7:30pm)

ADIRONDACK LAKES CENTER FOR THE ARTS (Blue Mountain Lake, NY)

Duo-Recital with Spencer Myer, pianist
Beethoven: 7 Variations, WoO 46
Foss: Capriccio
Falla/Marechal: Suite populaire espagnole
Rachmaninoff: Cello Sonata

7/25/2022 (5pm)

NANTUCKET MUSICAL ARTS SOCIETY (MA)

"Meet the Artists"

7/26/2022 (7pm)

NANTUCKET MUSICAL ARTS SOCIETY (MA)

First Congregational Church in Nantucke

J.S. Bach: Cello Suite #3
Rachmaninoff: Cello Sonata
with Spencer Myer, pianist