Francesca Anderegg
violinist
Biography
Repertoire
Discography
Reviews
Itinerary
Media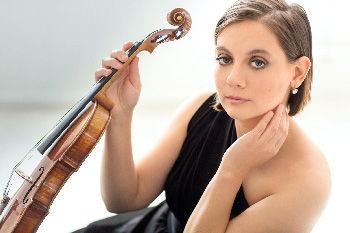 Hailed by The New York Times for her "rich tone" and "virtuosic panache," violinist FRANCESCA ANDEREGG consistently delivers insightful performances of both classical and contemporary scores. Through her inventive programming, active composer collaborations and precise, yet impassioned interpretations, she has earned renown as a musical explorer of the first order.
As a soloist, Francesa Anderegg has performed a wide variety of traditional and contemporary violin concerti with orchestras throughout the United States and South America. Following her 2008 Carnegie Hall debut, she has been presented in recital in distinguished national and international venues, among them The Metropolitan Museum of Art in New York City, Brooklyn's National Sawdust, The Arts Club of Washington, Chicago Symphony Center and Bógata's Museo Nacional de Colombia. Ms. Anderegg's festival appearances include the Tanglewood Music Center, National Music Festival, California's Music in the Vineyards, Sarasota Music Festival and Yellow Barn in Vermont.
Francesca Anderegg is also active in the recording studio, and her albums have been featured on radio programs throughout the United States and noted for "stunning virtuosity" (Fanfare Magazine), "lustrous tone" (The Strad Magazine) and "riveting listening experience" (Second Inversion). "Wild Cities" was selected as a favorite of 216 by New Music Box, and her most recent release, "Images of Brazil," won praise as "the most delightful disc of Brazilian chamber music to come along in years" (Fanfare Magazine).
The continual search for unusual repertoire has made Francesca Anderegg a fierce advocate for new music. Since her 2007 New York City concerto debut in Ligeti's Violin Concerto with The Juilliard Orchestra, she has championed the works of 20th Century and living composers. She performed Daniel Schnyder's jazz-influenced Violin Concerto with Orchestra for the Next Century and played Pierre Boulez's orchestral and solo compositions, under the direction of the composer, at the Lucerne Festival in Switzerland. With her husband, the Venezuelan-American composer Reinaldo Moya, she has presented a series of his original works exploring magical realism and other fascinating elements of Latin American literature and imagination. In collaboration with the celebrated conductor Gemma New, Ms. Anderegg gave the August 2019 world premiere of Moya's violin concerto, commissioned for her by Greenwood Music Camp and the Lakes Area Music Festival.
Francesca Anderegg holds an undergraduate degree from Harvard University and earned both master's and doctoral degrees from The Juilliard School, where her teachers included Robert Mann, Ronald copes and Naoko Tanaka. She is a laureate of the Corpus Christi International String Competition and recipient of fellowships from both the McKnight Foundation and the Leonore Annenberg Fund. An enthusiastic educator and mentor of young musicians, Ms. Anderegg has been a guest teacher at universities throughout the United States and abroad and has taught at Michigan's Interlochen Center for the Arts. Currently, she is Associate Professor of Violin at St. Olaf College in Minnesota.
BACH, J.S.
Concerto #1 in a, BWV 1041
Concerto in d for 2 Violins, BWV 1043
Concerto in c for Oboe & Violin, BWV 1060r
BARBER
Concerto, Op. 14
BARTÓK
Concerto #2 (1938)
Rhapsody #1
BEETHOVEN
Concerto in D, Op. 61
Concerto in C, Op. 56 ("Triple")
BERG
Chamber Concerto for Violin, Piano & 13 Wind Instruments
BOULOGNE, Joseph
Concerto #9 in G, Op. 8
BRAHMS
Concerto in a, Op. 102 ("Double")
BRITTEN
Concerto in d, Op. 15
BRUCH
Concerto #2 in d, Op. 44
COLERIDGE-TAYLOR
Concerto in g, Op. 80

GINASTERA
Pampeana #1
GUARNIERI
Concerto #1
JANÁČEK
Concerto ("Pilgrimage of the Soul")
KABALEBSKY
Concerto in C, Op. 48
KORNGOLD
Concerto  in D, Op. 35
LIGETI
Concerto (1992)
MENDELSSOHN
Concerto in d for Violin & Strings
Concerto in e, Op. 64
Concerto in d for Violin, Piano & Strings
MOYA, Reinaldo
Vestida de Mar (A Violin Concerto)
MOZART
Concerto #4 in D, K. 218
Concerto #5 in A, K. 219
Sinfonia concertante in E-flat, K. 364
NIELSEN
Concerto, Op. 33
PIAZZOLLA
Cuatro estaciónes porteñas ("The Four Seasons of Buenos Aires")
PONCE, Manuel
Concerto (1943)
PROKOFIEV
Concerto #2 in g, Op. 63
RAVEL
Tzigane (1924)
SCHNYDER, Daniel
Concerto (1997)
SHOSTAKOVICH
Concerto #1 in a, Op. 99
SIBELIUS
Concerto in d, Op. 47
4 Humoresques, Op. 89

STILL, William Grant
Suite
STRAVINSKY
Concerto in D (1931)
SZYMANOWSKI
Concerto #1, Op. 35
TCHAIKOVSKY
Concerto in D, Op. 35
VAUGHAN WILLIAMS
The Lark Ascending
VIVALDI
The Four Seasons, Op. 8
Concerto in a for 2 Violins, RV 522
WALTON
Concerto (1938-39)
"IMAGES OF BRAZIL"

Guerra-Peixe: Three Pieces for Violin & Piano
Guarnieri: Violin Sonata #4
Freire: Três canções
Villa-Lobos/Averbach: O Martírio dos Insetos
Aguiar: Meloritmias #4
Villani-Côrtes: Aguas Claras
Gnattali: Flor da Noite
with Erika Ribeiro, pianist

NAXOS: 8.573923 (2018)

"WILD CITIES"

Francis: Remix (2004)
Lash: Adjoining (2015)
Needham: On the Road (2013)
Hearne: Nobody's (2010)
Moya: Imagined Archipelagos (2012)
with Brent Funderburk, pianist

New Focus Recordings: FCR168 (2016)

"FRANCESCA ANDEREGG"

Mozart: Violin Sonata #21 in e, K. 304
Schoenberg: Phantasy, Op. 47
Perle: Triptych
Schubert: Rondo in b, Op. 70, D. 895
Carter: Four Lauds for Solo Violin
with Brent Funderburk, pianist

Albany Records: TROY1361 (2012)
The soloist was Francesca Anderegg, who made this dauntingly tricky work [Ligeti Violin Concerto] sound easy, starting with the microtonal anarchy of the first movement, with its clashing metric layers that echo the polyphony of Mr. Ligeti's extraordinary études. Ms. Anderegg played the dark, mournfully lyrical second movement with rich tone and Sashko Gawriloff's virtuosic cadenza with panache.
THE NEW YORK TIMES
The American violinist Francesca Anderegg and Brazilian pianist Erika Ribeiro have created a delightful panorama of the music of our country, entitled 'Images of Brazil' and distributed internationally by Naxos. Anderegg plays in tune, with precision, and has a solid technique and pleasant sonority, to which Ribeiro's fine pianism makes an excellent counterpoint. If you still give CDs for Christmas, this would be my choice for 2018.
CONCERTO MAGAZINE (Brazil)
Flor da Noite (or Night Flower) by Radamés Gnattali is one of the sweetest encore pieces I know. Written in 1938 it is an arrangement of a traditional song from Bahía, adapted for the violin and piano. Gnattali utilizes Debussyan harmonies to accompany the violin's free, lyrical line, with a touch of Latin lark ascending at the close. It is indicative of the hidden treasures these thoughtful musicians have unearthed for this recital ['Images of Brazil']. Francesca Anderegg is an extremely good violinist with a taste in uncommon repertoire. Here she plays with the highly sympathetic Brazilian pianist Erika Ribiero, and it is clear how much enjoyment they get from the program. Their enjoyment is infectious, resulting in the most delightful disc of Brazilian chamber music to come along in years.
FANFARE
'Images of Brazil' is one of those discs you'd be tempted to overlook: seven works by seven different composers and played (very well) by performers who aren't household names. I dismissed it initially, but that was a mistake. It just goes to show that you can't judge a CD by its cover. You've got to listen. All that remains to be said is that violinist Francesca Anderegg and pianist Erika Ribeiro play all of the music with the same care and loving attention to detail that obviously went into choosing the program. You can audition the whole thing through at a sitting or take it in bits. Either way, you surely will enjoy this hour of vibrant, songful, alternatively spiky and spicy music that's consistently captivating and worth your attention. Fine sonics too.
CLASSICS TODAY
America got a new orchestra last night [headline]
It's the Orchestra for a New Century, formed and conducted by Gary Schneider. We wish it full steam ahead. Not only was the program the orchestra's debut, it provided the U.S. premiere of the Violin Concerto (1997) by the Swiss-born American composer Daniel Schnyder, featuring the altogether remarkable Francesca Anderegg as soloist. His concerto is a gorgeous thing. It was clear that all forces had worked very hard on Mr. Schnyder's concerto, and their commitment made the hearing of this work one of the most memorable experiences this listener has enjoyed thus far this year. All one could say regarding Ms. Anderegg was brava, diva. This was playing that had it all–taste, mastery, sensuality.
ARTSJOURNAL (Norman Lebrecht)
Recitals don't come more appealingly designed than this one by violinist Francesca Anderegg. Engineer extraordinaire Judith Sherman, working at the American Academy of Arts and Letters, has given the recording a luminous sheen in a program that many will want to explore again and again.
THE JUILLIARD JOURNAL
Francesca Anderegg's 'Wild Cities' is haunted by the American dream, a dream of perpetual travel on an endless open road. Through it all, Anderegg's playing is crisp and eloquent, adapting seamlessly to the diverse natures of the five pieces.
Q2 MUSIC
As a sense of disarray and fragmentation mounts in the world of contemporary music, Francesca Anderegg's 'Wild Cities' delivers a refreshingly optimistic sense of the future, full of adventure and possibility.
SECOND INVERSION
Violinist Francesca Anderegg and pianist Brett Funderburk are newly minted professional soloists who are presenting their first recording. As Anderegg states in her notes, she designed this program to show the ways in which Schoenberg, Perle and Carter share the lyricism and expressivity of Mozart and Schubert. Anderegg and Funderburk have given us a disc of great interest for those who love the Viennese tradition.
FANFARE
8/25/2021 (7:30pm)

BRIDGE CHAMBER MUSIC FESTIVAL (MN)

St. John's Lutheran Church (Northfield)

Schubert: Piano Trio #2
with Christine Lamprea, cellist
Nicola Melville, pianist

11/6/2021 (8pm)

CANNON VALLEY REGIONAL ORCHESTRA (MN)

Paul Niemisto, conductor
Cannon Falls High School Auditorium

Sibelius: Violin Concerto

11/7/2021 (3pm)

CANNON VALLEY REGIONAL ORCHESTRA (MN)

Paul Niemisto, conductor
St. John's Lutheran Church (Northfield)

Sibelius: Violin Concerto

11/24/2021 (12pm)

DAME MYRA HESS MEMORIAL CONCERT SERIES

Chicago Cultural Center (IL)

L. Boulanger: Deux morceaux
Lash: Adjoining
Prokofiev: Violin Sonata #2
with Matthew McCright, pianist

12/12/2021 (3pm)

MUSIC ON THE HILL

Trinity Chapel, Bethany Lutheran College (Mankato, MN)

Haydn: Piano Trio #39
Piazzolla: Oblivion
F. Mendelssohn: Piano Trio
with Richard Belcher, cellist
Nicola Melville, pianist

3/31/2022 (12pm)

THE SCHUBERT CLUB (St. Paul, MN)

Landmark Center, Room 315

with Matthew McCright, pianist

4/24/2022 (3pm)

FRIENDS OF MUSIC OF STAMFORD (NY)

Stamford United Methodist Church

C. Schumann: 3 Romances
Lash: Adjoining
Frank: Sueños de Chambi
L. Boulanger: Deux morceaux
Beach: Violin Sonata
with Matthew McCright, pianist

6/25/2022 (7:30pm)

SARASOTA MUSIC FESTIVAL (FL)

Jeffrey Kahane, conductor
Sarasota Opera House

Prokofiev: Violin Concerto #2

2/25/2023 (7:30pm)

ROCHESTER SYMPHONY (MN)

Steven Amundson, conductor
Dr. Charles H. Mayo Presentation Hall, Mayo Civic Center

Piazzolla: The Four Seasons of Buenos Aires
Janáček: Violin Sonata #3
Nicola Melville, pianist
St. John's Lutheran Church (Northfield, MN)
2020

Ravel: Tzigane
St. Olaf Orchestra
Steven Amundson, conductor
Teatro El Círculo (Rosario, Argentina)
2016

Mozart: Violin Sonata #32 in B-flat, K. 454 (mvt. II: Andante)
Erika Ribeiro, pianist
Fundação Maria Luiza & Oscar Americano (São Paulo, Brazil)
2015

J.S. Bach: Violin Sonata in b, BWV 1014 (mvt. III: Andante)
James Bobb, harpsichordist
2018

Adams: Road Movies (mvt. III: 40% Swing)
Yael Manor, pianist
audio only, 2012

Elgar: Salut d'amour, Op. 12
Brent Funderburk, pianist
Paul Recital Hall, The Juilliard School (NYC)
2012

Schubert: Rondo in b, D. 895
Brent Funderburk, pianist
Studio recording (Albany) 2012