Marika Bournaki
pianist
Biography
Repertoire
Discography
Reviews
Itinerary
Schwarz & Bournaki
Media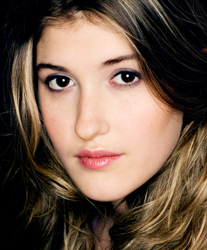 Described as "the Celine Dion of classical" by The Huffington Post, MARIKA BOURNAKI is at once a world-class performer, dazzling pianist, vivacious young woman and one of the freshest faces on the classical music scene. Ms. Bournaki not only brings distinctive interpretations to favorite standards, but extends her passion for music by commissioning works from younger composers and collaborating with artists from various fields.
Marika Bournaki's current season is highlighted by her debut with Colorado's Longmont Symphony Orchestra, Music Director Elliot Moore, conducting.
Marika Bournaki has appeared as guest soloist with the symphony orchestras of Bozeman, Duluth Superior, Richmond, Roanoke, Springfield (MO), Topeka, Montréal and St. Petersburg (Russia), along with Maryland's Chesapeake Orchestra, The SYMPHONIA (FL), Romania's Timisoara Filharmonica, Switzerland's Verbier Chamber Orchestra and Canada's Orchestre Métropolitain and Sinfonia Toronto. In addition to a benefit recital for the Glenn Gould Foundation at New York City's Carnegie Hall, she has been presented in solo recitals and chamber music collaborations throughout the United States, Canada and the world, including Belgium, England, Germany, Greece, Italy, Romania, Switzerland and South Korea. Of special note was her survey of Beethoven's complete 32-work piano sonata cycle, presented by the distinguished Bargemusic in Brooklyn.
A devoted chamber musician, Marika Bournaki performs regularly at Brooklyn's Bargemusic, the Cape Cod Chamber Music Festival and the Frankly Music series in Milwaukee, while serving on the faculties of the Eastern Music Festival and Canada's Lunenburg Academy of Music Performance. She tours internationally with duo partner cellist Julian Schwarz, and together won 1st prize in the 2016 Boulder International Chamber Music Competition's "The Art of Duo." Ms. Bournaki is also a member of the Mile-End Trio with Mr. Schwarz and violinist Jeffrey Multer.
The award-winning documentary "I am Not a Rock Star," featuring Marika Bounaki and directed by Bobbi Jo Hart, has captivated international audiences of all ages. The feature-length film chronicles Ms. Bournaki's evolution as an artist from the age of 12 to 20. A runaway success at multiple film festivals throughout the world, screenings of "I am Not a Rock Star" and solo performances were recently presented in Chicago, Dallas, Memphis, Miami, Napa Valley, Palm Springs, Toronto and Vancouver, as well as in Greece, México and Spain. The film has also been seen in Greece (ERT), The Netherlands (NTS), Norway (NRK), Sweden (SVT) the United Kingdom (BBC4), Australia (SBS) and New Zealand (Sky). The documentary is the recipient of awards for Best Arts Documentary and Best Editing from the 2014 Canadian Screen Awards.
Marika Bournaki's innovative approach to her art and performance is reflected in a number of multimedia projects intended to reach out to new audiences. Additionally, her role as Ambassador to the Orchestre Symphonique de Montréal's summer event, "A Cool Classical Journey," afforded new and stimulating ways to share her music with the public.
Marika Bournaki holds both Bachelor's and Master's degrees from The Juilliard School, where her principal teachers were Yoheved Kaplinsky and Matti Raekallio. She and her husband, the renowned cellist Julian Schwarz, make their home in Virginia.
[CHAMBER ENSEMBLE REPERTOIRE FOLLOWS CONCERTO LIST]
ALKAN                                 
Concerto da Camera in c#, Op. 10, #2
BACH, J.C.                            
Concerto #4 in B-flat
BACH, J.S.
Concerto in d, BWV 974
Concerto #5 in f, BWV 1056
BEETHOVEN
Concerto #1 in C, Op. 15
Concerto #2 in B-flat, Op. 19
Concerto #2 in B-flat, Op. 19
Concerto #3 in c, Op. 37
Concerto #5 in E-flat, Op. 73 ("Emperor")
Concerto in C, Op. 56 ("Triple")
CHOPIN
Andante Spianato & Grande Polonaise, Op. 22
Concerto #1 in e, Op. 11
Concerto #2 in f, Op. 21
FALLA
Nights in the Gardens of Spain
GERSHWIN
Concerto in F
GRIEG
Concerto in a, Op. 16
HAYDN
Concerto in D, Hob. XVIII: 11
MOZART
Concerto #9 in E-flat, K. 271
Concerto #17 in G, K. 453
Concerto #18 in B-flat, K. 456
Concerto #20 in d, K. 466
Concerto #21 in C, K. 467
Concerto #23 in A, K. 488
Concerto #24 in c, K. 491
PROKOFIEV
Concerto #3 in C, Op. 26
RACHMANINOFF
Concerto #2 in c, Op. 18
Rhapsody on a Theme of Paganini, Op. 43
RAVEL
Concerto in G
SCHUMANN
Concerto in a, Op. 54
SHOSTAKOVICH
Concerto #1 in c, Op. 35
TCHAIKOVSKY
Concerto #1 in b-flat, Op. 23
BEETHOVEN

 
Piano Trio #1 in E-flat, Op. 1, #1
Piano Trio #3 in c, Op. 1, #3
Piano Trio #4 in D, Op. 70, #1 ("Ghost")
Piano Trio #6 in B-flat, Op. 97 ("Archduke")
Quintet in E-Flat for Piano & Winds, Op. 16

BRAHMS

 
Clarinet Trio in a, Op. 114
Piano Trio #1 in B, Op. 8
Piano Trio #3 in c, Op. 101
Piano Quartet #3 in c, Op. 60
Piano Quintet in f, Op. 34
DVORÁK  
Piano Trio #3 in f, Op. 65
ELGAR
Piano Quintet in a, Op. 84
ENGEL, Josef
Freylachs (piano trio)
FAURÉ
Piano Trio in d, Op. 120
Piano Quartet #1 in c, Op. 15

FRANCAIX

  
Quartet for Piano & 3 Clarinets

FRUCHT, P.

  
Music for Piano Trio

GLINKA

  
Trio pathétique in d for Clarinet, Bassoon & Piano

HAYDN

  
Piano Trio #27 in A-flat, Hob. XV:14

HIGDON

Pale Yellow (piano trio)

HUBER, Hans

Sextet in B-flat for Piano & Winds (1898)

KORNGOLD

  
Piano Quintet in E, Op. 15

KREIN, A.

Elegie for Piano Trio

LIEBERMANN

  
Trio #1 for Flute, Cello & Piano

MENDELSSOHN

  
Piano Trio #1 in d, Op. 49
Piano Trio #2 in c, Op. 66

MILHAUD

  
Sonata for Flute, Clarinet, Oboe & Piano, Op. 47

MOZART

  
Piano Trio #4 in E, K. 542
Piano Quartet #1 in g, K. 478
Piano Quartet #2 in E-flat, K. 493
Quintet in E-flat for Piano & Winds, K. 452

POULENC

  
Trio for Oboe, Bassoon & Piano
Sextet for Piano & Woodwind Quintet

RAVEL

  
Piano Trio in a

ROUSSEL

  
Divertissement for Wind Quintet & Piano, Op. 6

SCHMITT

  
A Tour d'anches, Op. 97 (oboe, clarinet, bassoon, piano)

SCHOENFIELD

  
Café Music (piano trio)

SCHUBERT

  
Piano Trio #2 in E-flat, D. 929
Quintet in A, D. 667 ("Trout")
SCHUMANN
Piano Quartet in E-flat, Op. 47
Piano Quintet in E-flat, Op. 44

SHOSTAKOVICH

  
Piano Trio #2 in e, Op. 67

SMETANA

  
Piano Trio in g, Op. 15

STUTSCHEWSKY

  
Hassidic Fantasy for Clarinet Trio
Klezmer Wedding Music for Piano Trio

THEOFANIDIS

  
O Vis Aeternitatus for Piano Quintet

WEBER

  
Trio in g for Flute, Cello & Piano
"HAPPY BIRTHDAY MR. SCHUMANN 1810-2010"

Concerto in a, Op. 54 (audio and video)
Vladimir Lande/St. Petersburg Symphony Orchestra
Variations on A-B-E-G-G, Op. 1
Widmung (arr. Liszt)
Arabeske in C, Op. 18

I AM NOT A ROCK STAR (2012)

Canadian Screen Awards-winning documentary by Bobbi Jo Hall

Marika played the Mozart 466 with me this afternoon. It was an exceptional performance! As you know, I've played this concerto with some of the greatest pianists of the 20th century, and Marika's performance was on a level with the greatest of them all. I simple cannot express the thrill I had listening to her and her exquisite Chopin encore. Everyone felt the same way about her performance. What a triumph - and with Mozart!
GERARD SCHWARZ. guest conductor
The SYMPHONIA (Boca Raton, FL)
Right from the first bars of the Piano Concerto No. 20 in D minor, Schwarz brought out the storm and drama in the music with the principal themes spun in brisk strokes. Soloist Marika Bournaki exhibited a deft touch. Her runs were smoothly articulated and she played with impressive vitality. She displayed pounding power in the cadenza, leavened by nicely contrasted variety of dynamics and bold phrasing. Bournaki's fleet rendition of the final Rondo was invigorating and Schwarz integrated the orchestral and keyboard lines, keeping the ensemble to the fore without overpowering the soloist.
SOUTH FLORIDA CLASSICAL REVIEW
Marika was a wonderful guest artist. Her Schumann performances, both the concerto and her encore of the Arabeske, were beautiful and elegant. She was a pleasure to work with in rehearsal, friendly and collaborative, and proved very reliable in concert. She charmed the orchestra and audience and was kind to participate in a pre-concert interview on stage with me.
JONATHAN PASTERNACK
Music & Executive Director
Port Angeles Symphony Orchestra (WA)
The Celine Dion of classical
THE HUFFINGTON POST
Marika Bournaki dazzled the crowd.
THE TORONTO STAR
The pianist Marika Bournaki, graceful and fiery, is fascinating. She kissed Schumann's A minor Concerto with subtlety and vitality, navigating the piano's pedals with her high-heels, her forehead furrowed in concentration, her eyes animated by flaming passion. Ms. Bournaki was applauded enthusiastically and, as an encore, gave us the Romance by Schumann, a piece full of melancholy and beauty, that was entirely to our heart's content.
LE SOLEIL (Quebec City)
A performance of outstanding maturity
AACHENER ZEITUNG (Germany)
Marika channels Glenn Gould's spirit like no other.
IDEA CITY (Toronto)
Her playing projects intensity and self-confidence.
EL UNIVERSAL (México)
Forget the Barbie doll in a glittering dress. Forget her young age. When she entered the stage, dressed in a black jacket and pants, her long blond hair simply thrown over her shoulders, we understood already that this young woman was there for the right reasons, with intense determination. Mozart [Concerto #23] seemed perfectly suited to her musical sensibility, especially the second movement. In her delicate touch and extreme care taken in her execution, we felt her soul. It was moving. Truly, there is something unique about her ability to create a long legato line, while articulating each matched pearl. When her fingers drew the melody, she was stringing a necklace of notes. We discovered this evening that Marika is a serious interpreter, who combines in her playing elegance and precision.
LE SOLEIL (Quebec City)
Marika Bournaki exuded passion all evening.
LA PRESSE (Montréal)
6/24/2023 (7:30pm)

ADIRONDACK LAKES CENTER FOR THE ARTS (Blue Mountain Lake, NY)

Duo-Recital with Julian Schwarz, cellist
Korngold/Schwarz: Much Ado About Nothing Suite
Beethoven: Cello Sonata #3
Bloch: Méditation hébraïque
Poulenc: Cello Sonata
Chopin: Introduction & Polonaise brillante

8/20/2023 (4pm)

BARGEMUSIC (Brooklyn, NY)

The Barge

Duo-Recital with Julian Schwarz, cellist

11/4/2023 (7:30pm)

PORT ANGELES SYMPHONY ORCHESTRA (WA)

Jonathan Pasternack, conductor
Port Angeles High School Auditorium

Schumann: Piano Concerto

2/14/2024 (7:15pm)

LONGMONT SYMPHONY ORCHESTRA (CO)

House Concert

2/17/2024 (7:30pm)

LONGMONT SYMPHONY ORCHESTRA (CO)

Elliot Moore, conductor
Vance Brand Civic Auditorium, Skyline High School Campus

Tchaikovsky: Piano Concerto #1
Mozart: Piano Concerto #20 in d, K. 466 (mvt. III: Rondo)

Sinfonia Toronto, Nurhan Arman, conductor
2018

Kapustin: Concert Etude, Op. 40, #1 ("Prelude")

Studio 12, Radio-Canada (Montréal)
2013

Schumann: Variations on A-B-E-G-G, Op. 1

Studio 12, Radio-Canada (Montréal)
2011

Schumann/Liszt: Widmung

Studio 12, Radio-Canada (Montréal)
2008

J.S. Bach: English Suite #2 in a, BWV 807 (mvt. I: Prelude)

Marika Bournaki plays on Glenn Gould's Piano
Canadian Museum of Civilization (Ottawa)
2007

I Am Not a Rock Star 

movie trailer, produced by Adobe Productions
2014