Richard Dowling
pianist
Biography
Repertoire
Discography
Reviews
Itinerary
Media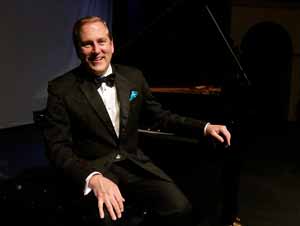 Hailed by The New York Times as an "especially impressive fine pianist," RICHARD DOWLING appears regularly across the United States and throughout the world in orchestral performances, solo recitals and chamber music collaborations. He has been acclaimed by audiences for his elegant and charismatic style of pianism which earns him frequent return engagements. He has received reviews that praise him as a "master of creating beautiful sounds with impeccable control of colors and textures," as "a musician with something to say, the skill to say it and the magnetic power to make you want to listen" and for giving "a superb recital that left the audience craving for more at the end." Works of Chopin, Gershwin, American ragtime and French Impressionism figure prominently in his repertoire.
On April 1, 2017, the exact centennial date of Scott Joplin's death in New York City, Richard Dowling became the first pianist in history to perform publicly the complete cycle of the composer's piano works (in a pair of sold-out recitals in Weill Recital Hall at Carnegie Hall). He continues to be presented in classical, all-Joplin and classical/ragtime programs throughout the United States.
In the United States, Richard Dowling has received nationwide attention for recitals seen on the PBS program Debut and has been heard on NPR's Performance Today, while in New York City, he has performed with orchestra at Lincoln Center for the Performing Arts' Alice Tully Hall and Damrosch Park, at Merkin Concert Hall, and in Central Park and presented recitals at Carnegie Hall's Weill Recital Hall, 92nd Street YM-YWHA, Steinway Hall, The Metropolitan Museum of Art, Union Club of the City of New York, Dahesh Museum, Kosciuszko Foundation, Liederkranz Foundation, Tenri Cultural Institute, Museum of the City of New York, Christie's, 54 Below, St. Bartholomew's Church, Trinity Church, Metropolitan Club, Brooklyn Conservatory, Concordia College and The Rainbow Room at Rockefeller Center.
Richard Dowling has established himself internationally with performances in Austria, France, Germany, Italy, Ecuador, China, Hong Kong, Singapore, Malaysia, Australia and South Africa. In the Far East, he has performed critically acclaimed recitals at the Shanghai Conservatory of Music, Singapore's Victoria Concert Hall and the Istana Auditorium in Kuala Lumpur. He has also conducted guest master classes at the LaSalle-SIA College of the Arts and Young Musicians' Society in Singapore and Hong Kong's Academy for the Performing Arts, as well as at the Shanghai Conservatory.
Richard Dowling enjoys a special affinity for France and its music, art and culture. He studied at the Conservatoire de Musique in Nice with the renowned French pianist Jeanne-Marie Darré, participated as a guest artist in the La Gesse Summer Festival, and received the Grand Prix from the French Piano Institute in Paris. He made his formal Paris recital debut at the Salle Cortot, and was subsequently invited to perform at the French Embassy in Washington, DC.  Maurice Ravel and his music were the subjects of Mr. Dowling's doctoral dissertation. His repertoire includes the complete solo and chamber piano music of Ravel and many works by Debussy, Fauré and Saint-Saëns. In 1996, in recognition of his dedication to French musical art, Mr. Dowling was officially inducted as a Chevalier of the renowned Compagnie des Mousquetaires  d'Armagnac, an honor society originally founded in the 17th century by D'Artagnan in Gascony in southwest France; in 2023 he was further honored by the society with the desingation "Officier de Musique."
A competition veteran and frequent prizewinner, Richard Dowling has been awarded first place in, among others, the San Antonio International Keyboard Competition, New Orleans International Piano Competition, Music Teachers' National Association (MTNA) Collegiate Artist Piano Competition, Louise D. McMahon International Music Competition (OK), Oklahoma Symphony Concerto Competition, Shreveport Symphony/Wideman Concerto Competition, Midland/Odessa National Young Artist Audition and the Brazos Valley (TX) Symphony Young Artists Competition. Mr. Dowling was the recipient of a special award from the National Federation of Music Clubs, recognizing his outstanding performances of American music.
Richard Dowling celebrated the 1998 centennial of the birth of George Gershwin by performing his complete solo and orchestral works for piano. In 2001, he released Sweet and Low-Down, a Klavier Records CD containing virtually all of the solo piano works by Gershwin. He has also recorded two albums of popular piano works by Chopin for Piano Productions Recordings and, with his duo-partner, cellist Evan Drachman, three CDs of cello and piano works: A Frog He Went a-Courting, Pairs of Pieces; Infinity; Romance and Revelation. In  2004, Klavier Records released World's Greatest Rags, followed, in 2007, by Rhapsody in Ragtime, two discs of Mr. Dowling's favorite American ragtime, novelty, stride and jazz piano solos. In 2010, Museum Music issued Music of Old New York - Ragtime Music & Songs from Turn-of-the-Century New York. His most recent recordings on the Rivermont label are Cocktails for Two, a collection of piano duets of the art deco era, and Gershwin for Two Pianos, featuring Rhapsody in Blue and other beloved Gershwin works, both with fellow pianist Frederick Hodges. In commemoration of the centennial of the death of Scott Joplin, Rivermont Records issued a three-CD set of the complete solo piano works of the legendary American ragtime composer; the Grammy-nominated set comprises 54 rags, waltzes and marches.
Richard Dowling has produced his own critical performing editions of Maurice Ravel's Gaspard de la nuit, Miroirs, Sonatine, Jeaux d'eau, Pavane pour une infante défunte and his  Trio for Violin, Cello and Piano,based on the composer's original manuscripts, as well as critical editions of Debussy, Fauré, Gershwin, Hummel and Mendelssohn. In January, 2013 Alfred Music Publishing issued Zez Confrey at the Piano, Mr. Dowling's new edition of 27 solo piano works by the 1920's American jazz master, including works that have been long out-of-print, as well as transcriptions of Confrey's disc and player piano rolls.
While studying at Yale University, Richard Dowling was honored with the Lockwood Award for performing the best recital and the Bruce Simonds Award for outstanding solo and ensemble playing; subsequently, he earned a Doctor of Musical Arts degree in piano performance from The University of Texas. His principal teacher was Abbey Simon.
In addition to his regular concert performances, Richard Dowling is frequently heard as a member of the artist roster of The Piatigorsky Foundation, a non-profit organization dedicated to bringing live classical music to audiences across America. Since 1994, he has performed well over 1000 recitals under its auspices.
Richard Dowling makes his home in New York City.
BEETHOVEN
Concerto #1 in C, Op. 15
Concerto #3 in c, Op. 37
Concerto #5 in E-flat, Op. 73 ("Emperor")
CHOPIN
Andante Spianato & Grande Polonaise, Op. 22
Concerto #1 in e, Op. 11
Concerto #2 in f, Op. 21
Variations on Mozart's La ci darem la mano, Op. 2
FAURÉ
Ballade in F#, Op. 19
GERSHWIN
Concerto in F
Rhapsody in Blue
Second Rhapsody
Variations on I Got Rhythm
GOTTSCHALK
Grande Tarantelle, Op. 67
GRIEG
Concerto in a, Op. 16
LISZT
Concerto #1 in E-flat
MENDELSSOHN
Concerto #1 in g, Op. 25
MOSZKOWSKI
Concerto in E, Op. 59
MOZART
Concerto #21 in C, K. 467
Concerto #22 in E-flat, K. 482
Concerto #23 in A, K. 488
Concerto #25 in C, K. 503
Concerto #27 in B-flat, K. 595
Concerto for 2 Pianos in E-flat, K. 365
PROKOFIEV
Concerto #3 in C, Op. 26
RACHMANINOFF
Concerto #1 in f#, Op. 1
Concerto #2 in c, Op. 18
Rhapsody on a Theme of Paganini, Op. 43
RAVEL
Concerto in G
SAINT-SAËNS
Carnival of the Animals
Concerto #2 in g, Op. 22
Concerto #4 in c, Op. 44
SCHUMANN
Concerto in a, Op. 54
TCHAIKOVSKY
Concerto #3 in E-flat, Op. 75
TO PURCHASE CDs, visit www.dowlingmusic.com
SCOTT JOPLIN: THE COMPLETE PIANO WORKS

Rivermont Records: 3-CD set: BSW-2240


RICHARD DOWLING PLAYS CHOPIN, Vol. I

Piano Productions Recordings: PPR 0211


RICHARD DOWLING PLAYS CHOPIN, Vol. II

Piano Productions Recordings: PPR 0906


"SWEET AND LOW-DOWN"
RICHARD DOWLING PLAYS GERSHWIN

Klavier Records: K 11117


"GERSHWIN FOR TWO PIANOS"

Rhapsody in Blue
Concerto in F
Variations on I Got Rhythm
Percy Grainger: Porgy and Bess Fantasy for 2 Pianos
with Frederick Hodges, pianist

Rivermont Records: BSW-2227

"COCKTAILS FOR TWO"

Johnston: Cocktails for Two
Porter: Begin the Beguine
Lieurance: By the Waters of Minnetonka
Barnes: Dainty Miss
De Rose: Deep Purple
Brown: Doll dance
Beiderbecke: In a Mist
Lecuona: Malagueña
Brown: Rag Doll
Gershwin: Short Story
Brown: The Wedding of the Painted Doll
Braggiotti: Variations on Yankee Doodle
with Frederick Hodges, pianist

Rivermont Records: BSW-2248

"RHAPSODY IN RAGTIME"
RAGTIME, NOVELTY, STRIDE AND JAZZ PIANO SOLOS

Klavier Records: 11164

"WORLD'S GREATEST PIANO RAGS"

Music of: Blake, Bolcom, Confrey, Gershwin, Hampton, Joplin, Lamb, Matthews, Northup, Roberts, Scott

Klavier Records: K 77035

"MUSIC OF OLD NEW YORK"

works of Joplin, Turpin, Cohan, Von Tilzer, Johnson, Paull, Europe and others

Museum Music: MM161


"ROMANCE AND REVELATION"

Rubinstein: Melody, Op. 3, #1
Bruch: Kol Nidrei
Piatigorsky: Prayer
Rubinstein: Romance, Op. 44, #1
Dvorák: Cello Concerto in b, Op. 104
Rachmaninoff: Andante from Cello Sonata in g, Op. 19
Evan Drachman, cellist
Richard Dowling, pianist

EDVC Music: 2903

"INFINITY"

Tchaikovsky/Piatigorsky: Valse sentimentale
Elgar: Cello Concerto in e, Op. 85
J.Piatigorsky: Prelude
Schumann/Casals: Träumerei from Scenes from Childhood
Prokofiev/Piatigorsky: March from Music for Children
Prokofiev/Piatigorsky: Masques from Romeo and Juliet
Schumann: Fantasiestücke, Op. 73
Evan Drachman, cellist
Richard Dowling, pianist

EDVC Music: 2902



"PAIRS OF PIECES"

Haydn: Divertimento
Weber: Adagio & Rondo
Bruch: Kol Nidrei
Piatigorsky: Prayer
Piatigorsky: Promenade & Syrinx
Hindemith: A Frog He Went a-Courting
Schubert: Introduction, Theme & Variations
Granados: Orientale & Andaluza
Piatigorsky: Scherzo
Prokofiev: Masques
Fauré: Elegy
Saint-Saëns: The Swan
Evan Drachman, cellist
Richard Dowling, pianist

The Piatigorsky Foundation: PF 2901

Richard Dowling is an especially impressive, fine pianist.
THE NEW YORK TIMES
Richard Dowling returned to Spokane to perform a program composed by the teenaged Frederic Chopin. The venue was Barrister Winery: an ideal festival venue, affording both intimacy and the acoustic apace needed to accommodate the full dynamic range of a grand piano. Dowling took advantage of both qualities. He is a polymath who commands full resources of a concert pianist, the scholarly accomplishments of a Ph.D. in music from Yale and the skills of a professional music editor. At the keyboard, he obtained an extraordinary dynamic range, from ethereal filigree to octaves that registered high on the Richter scale. The audience was transported.
THE SPOKESMAN-REVIEW (SPOKANE, WA)
In April 2017, as a 100-year commemoration of Joplin's death, Richard Dowling has released the latest compendium and it may well stand as the definitive one. These are studio recordings, recorded in advance so as to have the package available for sale at the Carnegie Hall concerts on the actual date of Joplin's death. In no way does this diminish their quality, which is outstanding. The sound is crisp and clear and the piano is a top-of-the line Steinway. Ragtime in general (and Joplin in particular) is fortunate to have Dowling as its champion. This recording is a winner in every way. Most aficionados will already have a favorite 'Complete Joplin' in their libraries and will have their own reasons for valuing it. However, you owe it to yourselves to investigate Dowling's recording, for I predict you will be captivated. Highest recommendation.
COMPACT DISC REVIEW
The Complete Piano Works of Scott Joplin [headline]
Ragtime is America's classical music, Scott Joplin is the king of ragtime and Richard Dowling is clearly the premiere interpreter of his music. Be sure to pick up this gem, which is available from www.rivermontrecords.com.
LA JAZZ SCENE
Ridgefield Symphony Orchestra was in fine form at the opening of its 48th season, but the high point was pianist Richard Dowling's extraordinary encore. Following a flawless performance of Chopin's Concerto No.2 in F minor, Dowling instantly silenced thunderous applause when he returned for his solo encore, playing a delightful Chopin nocturne. Dowling started out with a straight forward treatment of the piece but couldn't help himself from having fun and jazzed things up with some ragtime riffs, putting his own fingerprints all over Chopin with clever variations of the popular nocturne. Everyone, especially Dowling, was all smiles at intermission.
CONNECTICUT POST
Music of Old New York
This collection of Tin Pan Alley, Broadway, ragtime, patriotic tunes, and other turn-of-the-century New York genres is distinguished by its sumptuous musicality. Richard Dowling eschews the punchy pseudo-piano roll approach used by so many contemporary pianists in this material. This is an attractive love letter to old New York and an excellent introduction to a vital aspect of American culture.
AMERICAN RECORD GUIDE
Dowling is a musician with something to say, the skill to say it and magnetic power to make you want to listen. It wasn't just music - it was theater, story-telling of the best sort.
THE SAN ANTONIO EXPRESS-NEWS
Dowling's performance of Ravel's Alborada del gracioso exhibits his genuine affection for French music. He plays with considerable depth, expressing a forceful understanding of this style of music.
CLASSICAL MAGAZINE
Richard Dowling gave a superb all-Chopin recital. Here, clearly, is a pianist of high ideals as he approached every work with utmost attention to detail in balance, phrasing and pedalling. More importantly, his efficient technique was unfailingly musical and even the most daunting technical passages were transformed into objects of beauty. Dowling had something personal to say and impressed with impeccable control of colours and textures. He received a standing ovation and left the audience craving more.
THE BUSINESS TIMES (Singapore)
Beethoven's Concerto No. 5 is one of the most difficult piano concertos created. Before Jon Kalbfleisch raised his baton, the on-stage interaction between the maestro and pianist Richard Dowling displayed a promising sense of confidence and excitement. The soloist's talent immediately began to shine, and his showmanship and skill were exhibited with a great fervor balanced with a wonderfully delicate grace. Considering the nature of the Beethoven's piece, the partnership between the conductor and soloist was integral to its success, and the musicians did not fail to impress. Throughout the concerto, the phenomenal performance from Dowling and the Lawton Philharmonic Orchestra reached the high standards the organization sets for its performances.
THE LAWTON CONSTITUTION (Oklahoma)
Dowling obviously has technique to spare; even at whirlwind tempos, his playing was quite clean. He also has a knack for dramatic underlining, taking full advantage of every possible fortissimo.
SUN-SENTINEL (Fort Lauderdale)
Pianist Richard Dowling dances through 29 Gershwin numbers with exuberance and a natural feel for rubato. He plays with what Gershwin called the stenciled style - fast, upbeat, and snappy. The recording has a dry sparkle perfect for Dowling's no-nonsense playing. If you love Gershwin, don't miss this.
AMERICAN RECORD GUIDE

6/1-3/2023

SCOTT JOPLIN INTERNATIONAL RAGTIME FESTIVAL (Sedalia, MO)

9/30-10/1/2023

CAPE COD RAGTIME FESTIVAL (Orleans, MA)

10/4/2023 (7pm)

DUNWOODY VILLAGE (Newtown Square, PA)

Joplin: The Easy Winners
Joplin: Pine Apple Rag
Joplin: Gladiolus Rag
Joplin: The Ragtime Dance
Joplin: Solace - A Mexican Serenade
Joplin: The Entertainer
Gershwin: 3 Preludes
Gottschalk: The Banjo
Gottschalk: Caprice on Home, Sweet Home
Gottschalk: The Union

10/12/2023 (7pm)

AZALEA TRACE (Pensacola, FL)

Scarlatti: 5 sonatas
Mendelssohn: Variations sérieuses
Ravel: Sonatine
Gottschalk: The Banjo
Gottschalk: Caprice on Home, Sweet Home
Gottschalk: The Union

11/17-19/2023

WEST COAST RAGTIME FESTIVAL (CA)[[

Sacramento Marriott Rancho Cordova

3/11/2024 (5pm)

THE GLENVIEW AT PELICAN BAY (Naples, FL)

3/12/2024 (7:15pm)

ST. ANDREWS ESTATES NORTH (Boca Raton, FL)

3/13/2024 (7:15pm)

INDIAN RIVER ESTATES EAST (Vero Beach, FL)

3/14/2024 (7pm)

ABBEY DELRAY (Delray Beach, FL)

3/23/2024 (7:30pm)

WILMINGTON SYMPHONY ORCHESTRA (NC)

Dr. Steven Errante, conductor
Performance Hall, Wilson Center at CFCC

Gershwin: Piano Concerto in F

4/5/2024 (7:30pm)
4/6/2024 (7:30pm)

DAYTON PHILHARMONIC ORCHESTRA (OH)

Neal Gittleman, conductor
Mead Theatre, Schuster Performing Arts Center

Mozart: Piano Concerto #16
Gottschalk: Grande Tarantelle

4/27/2024 (4pm)
4/28/2024 (4pm)

BARGEMUSIC

The Barge (Brooklyn, NY)

5/5/2024 (3pm)

ROSSMOOR MUSIC ASSOCIATION (Monroe Township, NJ)

The Meeting House

5/29-6/1/2024

SCOTT JOPLIN INTERNATIONAL RAGTIME FESTIVAL (Sedalia, MO)

8/18/2024 (4pm)

WOODFORDS CONGREGATIONAL CHURCH (Portland, ME)

8/19/2024 (6:30pm)

OCEANVIEW AT FALMOUTH (ME)

Hiltop Community Room

10/10/2024 (7pm)

AZALEA TRACE (Pensacola, FL)
Beethoven: Piano Sonata #14 in c-sharp, Op. 27, #2 (mvt I: Adagio sostenuto)
San Antonio Symphony Beethoven Festival
February 14, 2012

Chopin: Nocturne #2 in E-flat, Op. 9, #2
with
Uslan: Chopin's Knocked Urn
San Antonio Symphony Beethoven Festival
February 14, 2012

Gershwin: Rhapsody in Blue for solo piano (Part 1)
Kansas City Ragtime Revelry
May 17, 2009

Gershwin: Rhapsody in Blue for solo piano (Part 2)
Kansas City Ragtime Revelry
May 17, 2009

Ravel: Piano Trio in a
Lecture/Recital - Harry Ransom Humanities Research Center
The University of Texas at Austin
November 18, 2008

Gershwin: Rialto Ripples Rag
Sun Valley Summer Symphony
Erich Kunzel, conductor
August 4, 2007

Richard Dowling's YouTube Channel