Shea-Kim Duo
violin/piano
Biography
Discography
Reviews
Itinerary
Media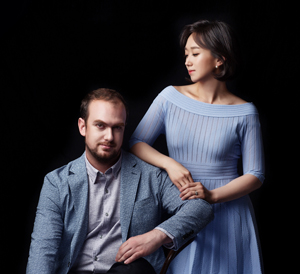 The award-winning SHEA-KIM DUO was formed in 2014 by the husband and wife team of violinist Brendan Shea and pianist Yerin Kim. Subsequently, they have competed internationally and toured the world, performing in Belgium, Italy, South Korea, Canada and the United States.
The Shea-Kim Duo's awards include a Gold Medal from the Manhattan International Music Competition and the Ackerman Chamber Music Award, while their performances have been broadcast on Klara Continuo (Belgium), PBC (South Korea) and WUFT (USA). The artists have released two highly acclaimed CDs on the Blue Griffin Recording label: "The Sound and the Fury," including music of Dvorák, Grieg and Janácek, and "All Roads," featuring works by Beethoven, Schnittke, Schumann and Beach.
Actively involved in promoting chamber music to a broader community and audience, the Shea-Kim Duo regularly presents sensory-friendly concerts that provide high-quality chamber music for individuals and families with autism. The Duo also regularly appears at several notable music festivals, including those of Anchorage, Annapolis and Harborfront, and are the founders and artistic directors of Washington's Chamber Music in the Bend.
A much sought after soloist, chamber musician and teacher, BRENDAN SHEA, by the age of 11, was performing with orchestras and had played at New York City's Carnegie Hall. His awards span three continents and include Gold Medal and Audience Award from the Chesapeake International Chamber Music Competition, Grand Prize from the Coleman Chamber Music Competition, First Place with Honors from the Glazunov International Competition in Paris and  Bronze Medal from the Osaka International Chamber Music Competition. Brendan has been affiliated with two distinguished, award-winning quartets, as a founding member of the Wasmuth Quartet (now Verona) and as a member of the Euclid Quartet. Currently, he serves as concertmaster of the Boise Philharmonic and Langroise Trio Artist-in-Residence at the College of Idaho. His solo career has taken him across the globe, with performances in major venues in Europe and Asia as well as throughout the United States, while he also performs and teaches at prestigious festivals and residencies, including the  Encore Chamber Music Festival and Credo Music Festival. Brendan has been a guest faculty member at Oberlin Conservatory of Music and University of Notre Dame and served for five years on the faculty of Indiana University South Bend. His current violin was crafted in 2000 by Samuel Zygmuntowicz in Brooklyn, New York.
Praised by the International Piano Magazine as a "pianist of beautiful finesse and golden tone," YERIN KIM enjoys a multi-faceted career as soloist, chamber musician, recording artist and educator. She has performed in numerous festival and recital performances in internationally renowned venues, among them: Carnegie Hall, The John F. Kennedy Center for the Performing Arts, Rolston Hall at Canada's Banff Centre for the Arts and Place Flagey in Brussels. Yerin's debut solo album, "First and Last Words," with works by Schumann and Schnittke, was released in 2019 on the Sheva Collection label. Holding a Double Degree in Piano Performance and Psychology from Oberlin Conservatory and College, a Master of Music from Indiana University Bloomington and a Doctor of Musical Arts from the State University of New York at Stony Brook, she is equally passionate about music education, and has been teaching a diverse group of students from many parts of the world. Yerin has taught at the Indiana University Bloomington, University of Notre Dame, State University of New York at Stony Brook and South Korea's Chugye University for the Arts Conservatory, and has recently joined the faculty of Central Washington University as Assistant Professor of Piano and Director of Keyboard Studies.
"ALL ROADS"

Beethoven: Sonata #3 in E-Flat for Violin & Piano, Op. 12, #3
Schnittke: Suite in the Old Style
Schumann: Sonata #1 in a for Violin & Piano, Op. 105
Beach: Romance, Op. 23

BLUE GRIFFIN RECORDING: BGR643

"THE SOUND AND THE FURY"

Dvorák: Mazurek, Op. 49
Grieg: Sonata for Piano & Violin #3 in c, Op. 45
Janáček: Sonata for Violin & Piano

BLUE GRIFFIN RECORDING: BGR593

"LIVE FROM SOUTH KOREA"

Beethoven: Sonata #8 in G for Violin & Piano, Op. 30, #3
Janáček: Sonata for Violin & Piano
Schubert: Grand Duo in A for Violin & Piano, D. 574
J.S. Bach: Sonata #4 in c for Violin & Piano, BWV 1017
Schnittke: Sonata #1 for Violin & Piano
Grieg: Sonata for Piano & Violin #3 in c, Op. 45
Rachmaninoff: Vocalise J.S. Bach: Air

private label
On 'All Roads,' the Shea-Kim Duo explore music by composers connected to the city of Vienna 'in increasingly distant ways.' Warm, stylish playing, fine ensemble and a lovely recording quality make for a highly enjoyable disc.
THE WHOLENOTE (ON, Canada)
ALL ROADS: Violin Piano Music of Beethoven, Schumann, Schnittke, Beach
Shea's violin intones a timeless sense of spatial serenity. The performance [of the Schumann sonata] remains well articulated, colorful in phrase and impulsive contour. His tone is piercing, ardent, and alluring in a manner reminiscent of Szymon Goldberg.
AUDIOPHILE AUDITION
ALL ROADS: Violin Piano Music of Beethoven, Schumann, Schnittke, Beach
Stylistic contrast is more likely to be what attracts listeners to this CD – that, plus the apparent ease and near-effortlessness with which Brendan Shea and Yerin Kim pick up on each other's cues and themes to produce performances of unfailing attractiveness. Sit back and revel in the excellent playing.
TRANSCENTURY MEDIA
ALL ROADS: Violin Piano Music of Beethoven, Schumann, Schnittke, Beach
If any violin-and-piano outfit is capable of connecting the dots between such centuries-spanning material, it's Shea-Kim Duo, the recipient of bountiful praise over the course of its decade-long tenure. The music beguiles from the first movement [of the Beethoven sonata], especially when the duo's instruments partner so sweetly and the movement's considerable technical challenges are met so convincingly. [Schumann] indicated that the dramatic first movement should be played 'with passionate expression,' and Shea-Kim Duo complies by investing his inwardly probing material with an intense outpouring of feeling. Shea and Kim enliven each rendition with passion and conviction, the result stylish, effervescent, and charismatic performances of the highest rank.
TEXTURA
A beautiful programme of violin and piano works performed with great energy by the Shea-Kim Duo in what is their first studio album. The close recording creates a rich and intimate atmosphere as they navigate the thrills and spills of Janáček and Grieg plus Dvorák's colourful Mazurek.
BBC MUSIC MAGAZINE
Shea-Kim Duo Captures Beauty and Intensity on 'The Sound and Fury' [headline]
The passion with which the Shea-Kim duo tears into three outwardly different pieces–Dvorák's Mazurek; Grieg's Violin Sonata No. 3; and Janáček's Sonata for violin and piano–takes them straight to the heart of the music in performances that capture what they describe in the liner notes as 'the love, the beauty, the intimate moments, the rage and the intensity we feel in our own storytelling.' Shea and Kim work exquisitely as a team, overlapping their lines so seamlessly they become inseparable. Shea's throbbing tone at times gives way to a radiant purity and the music overall comes across as more than merely notes, more like real life.
STRINGS
The Sound and the Fury [headline]
This is an unexpected pleasure. The husband-and-wife duo have chosen works that suit their not-at-all-calm temperaments. Brendan Shea demonstrates immediately that he has the chops for the program; if you play endless runs in thirds like that, you are probably well set up. The Grieg [Sonata] is here performed as well as I have heard it in decades. The slow movement is predictably exquisite, if you can conceive of such a thing; the outer ones are unusually fierce and indeed ferocious. The Janáček Sonata is one of those semi-orphaned pieces that are of interest to some players, but written off by many others. The Shea-Kim Duo don't write it off in any way; they frankly play the bejeezus out of it. Brendan Shea's timbre, incidentally, is remarkable.
AMERICAN RECORD GUIDE
Also on the program was an enjoyable offering by the SHEA-KIM DUO of the Beethoven Violin Sonata No. 8 in G. It was a lively, ebullient, and spikily accentuated performance that was appreciated for its verve and bubbly presentation. And still, the performance lacked nothing in the gracioso middle movement and the climactic finale was brightly splendid. It was a supremely good time!
CALGARY HERALD
The two main works [Grieg Violin Sonata #3; Janáček Violin Sonata] in this recording are from two diametrically opposed composers, poles apart in style and sound. And therein lies the deeply musical, expressive character and spiritual fusion of the Shea-Kim Duo in that they can seamlessly slip into character from one to the next.
CLASSICAL MUSIC SENTINEL
Shea-Kim Duo shows strong chemistry in The Sound and The Fury [headline]
That this duo is well capable of delivering very passionate playing becomes instantly clear while listening to the Violin Sonata No. 3 of Edward Grieg. Ms. Kim displays noesis very well. Technically at a very high level, she never misses her husband's slightest rubato. Mr. Shea has a quite rare capacity for perfect intonation, even in the most awkward passages. He is a born musician.
EAR RELEVANT  (Atlanta)
Shea-Kim Duo: The Sound and The Fury [headline]
If one word sums up these performances [music of Dvorák, Grieg, Janácek]' it's inspired. The duo are fully invested in the treatments, so much so it would be hard to imagine another duo's equaling theirs for intensity and engagement. Shea-Kim Duo brings the three works vividly and magically to life on this superb recording.
TEXTURA
SHEA-KIM DUO/Sound and the Fury: This long time, award winning duo do such a fine job of raising the roof that you often forget there's just two of them. Wringing their violin and piano for all the notes it can muster, they reposition what should be intimate works and fill them with rock star fire. Really opening the ears in fine and high style, the invigoration and reinvention work wonders. This set is sure to be seen and heard as another jewel in their crown.
 MIDWEST RECORD
10/24/2023 (7:30pm)

FIRST PRESBYTERIAN CHURCH (Boise, ID)

C. Schumann: 3 Romances, Op. 22
R. Schumann: Fantasiestücke, Op. 73
Martinu: Violin Sonata #2
Schubert: Fantasie in C

10/26/2023 (7:30pm)

THE COLLEGE OF IDAHO (Caldwell)

Langroise Recital Hall

C. Schumann: 3 Romances, Op. 22
R. Schumann: Fantasiestücke, Op. 73
Martinu: Violin Sonata #2
Schubert: Fantasie in C

10/28/2023 (7pm)

LEVINE MUSIC (Washington, DC)

Lang Recital Hall, DC Campus: NW

R. Schumann: Fantasiestücke, Op. 73
Martinu: Violin Sonata #2
Schubert: Fantasie in C

3/29/2024 (7pm)

OMAK PERFORMING ARTS CENTER (WA)
Janáček: Sonata for Violin & Piano
Place Flagey (Brussels, Belgium)
2015 Queen Elisabeth Competition

Dvorák: Mazurek, Op. 49
University of Notre Dame (Indiana)
2019

Beach: Romance, Op. 23
South Bend, Indiana
December, 2020

Prokofiev: Sonata #1 in f for Violin & Piano, Op. 80 (mvt. III: Andante)
South Bend, Indiana
December, 2020

Grieg: Sonata #3 in c for Piano & Violin, Op. 45 (mvt. I: Allegro molto ed appassionato)
Kirkland Performance Center (Washington)
September, 2019